Patient TVs - Tablets - Telehealth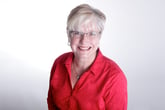 As part of our 40th Anniversary celebration, we're publishing a special series of blogs throughout 2020. Each month you'll see insights from a different member of the PDi team. Our goal is to bring you more fully into the PDi family. Our twelfth blog in this series comes to you from Cat Saettel, Marketing Manager.
Patient entertainment technology needs are different. Some people want simple TV distraction, while patients who undergo long hours or days of treatment appreciate the added entertainment of Smart TVs and tablets. Many patients and providers benefit from telehealth these days too, merging technology with patient care. As you seek out the best fit for patient-centric technology at your healthcare facility, here are several proven, hassle-free and safe options from people who care at Ohio-based PDi.
Over the past 40 years, the PDi team has focused exclusively on making the most affordable, complete personal arm-mounted patient TV systems to reach patient needs in many different healthcare spaces. Facilities managers and providers trust PDi for UL-Listed products designed for healthcare safety, cleaning and infection control; as well as complete systems designed to work together, many components built or assembled in the USA in Springboro, Ohio for quick delivery times; and future-proof designs that make it easy to upgrade or customize as needed. Excellence in customer service is an added bonus from our US-based PDi ProServices technical support team. We are with you every step of the way
Hip, hip hooray! Here are 3 ways PDi can serve you and your patients.
medTV® Complete Patient TV Systems
Do you realize a PDi arm-mounted TV is equal to a 90" wall TV experience? This makes the 16" and 19" medTV displays a great option for sick or elderly who really don't want to wear their eyeglasses. Forward-facing speakers reduce noise on the floor and improve patient satisfaction too.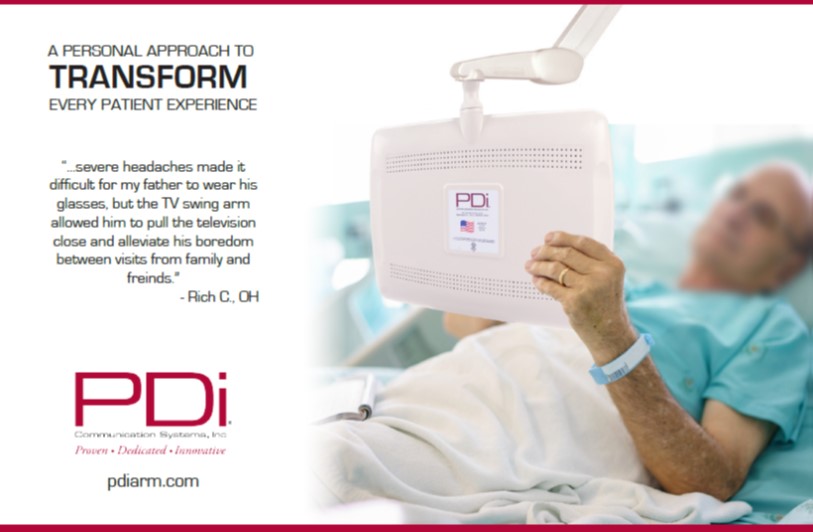 medTV is intuitive to use having a direct numeric keypad eliminating the need for a patient TV remote. Some facilities even order medTV with pillow speaker controls for even greater patient comfort! Patients will never miss their favorite shows as PDi designs minimods for cost-effective delivery of more HD channels thru DIRECTV and satellite services. Learn more about this for your clinic application here:
PDi arm designs are the only OSHPD approved system, reduce neck and eye strain for patients, and make it easy to service cables in the field. Our arm designs keep cables safely away from patients whether you choose the 17" reach SpaceSaver, our most popular 1400 Series Arm with headwall or counter-top options, or the 72" longest reaching 1000 Series arm system, which is available in many ceiling mount options. Learn more about the 9 ways to mount medTV or visit the complete medTV catalog of options:
PDi truly builds a powerful complete patient TV system. We even build the low-voltage power supplies! Traditionally, low-voltage PDi TVs get their power and RF signal over coax. We are proud to be first to market a POE, Powered over Ethernet, future-proof patient television. This allows healthcare providers to provide either an IPTV or coax broadcasting signal.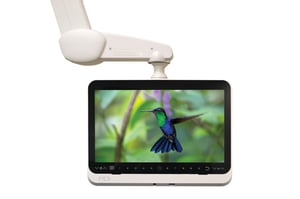 We also design our TVs to leverage existing investments in PDi equipment, as we see many PDi arms still in use over 10 years. This means you can reuse existing PDi arms, mounts and power supplies and upgrade the TV only.
medTAB® Healthcare Tablets, NO ADT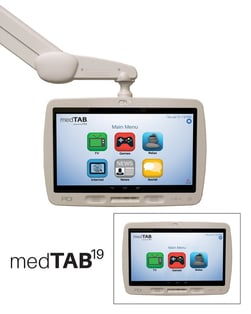 Smart TV options on medTAB touchscreen devices, built by PDi to meet UL and stringent healthcare requirements, offer great flexibility to meet your strategic objectives for patient experience and patient satisfaction. This standalone, out-of-the-box solution by PDi entertains and relaxes patients with TV, games, and relaxation. It's as easy to use as a smartphone! If you are ready to connect patients to the web, easily provide access to news, social media, and a web browser via WIFI or ethernet.

Get genius smart with GENiO™, our latest remote device management tool. Ask us about how to easily customize this user interface for patient education, music or other scalable apps, without any integration to ADT or EMR systems. That's a big benefit over full enterprise interactive patient software systems.
Telehealth COVID-care Carts
At PDi, we have a long history of innovations to serve the needs of the healthcare industry. With COVID-19, we do our part to keep healthcare providers and patients safe. Leverage our touchscreen arm-mounted displays to safely bring virtual visits to your patients or senior living residents.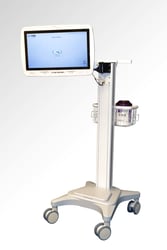 Having telehealth as an option can make care more accessible for patients. It protects doctors and specialists while ensuring that patients or residents receive the care they need.
PDi offers an all-in-one mobile telehealth cart with a touchscreen tablet having an integrated camera/mic, so no external cords to fuss with! This cart comes with a one-year subscription to Teleray, the HIPAA-compliant telehealth software by Nautilus Medical.
Share our COVID Care flyer or visit our website for more COVID care solutions by PDi.
----
No matter what solution you think is right for your patients in your facility, the PDi team of experts is here to help you make the final decision. Whether you know what you want or are looking for some guidance, give us a call today, and our team can help you evaluate and decide on the right path. PDi's dedicated problem-solving staff help customize the patient experience to work for every building environment, exactly the way you want it.
Thank you for celebrating with us throughout 2020 - our 40th Anniversary year. We've loved hearing from our guests around the office this year and look forward to sharing more innovations, stories and technology with you next year.