Designed to make TV sources easier to manage.

No Middleware
PDi TVs have a built-in IPTV Player

Not Complicated
Like RF coax cable signal distribution, only use Ethernet Cat cable and no amplifiers

Compatible Headends
Works with COM3000 or Blonder Tongue and other streaming devices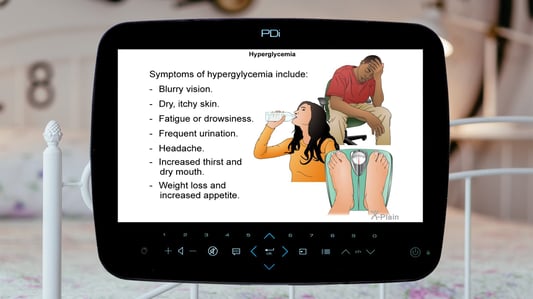 A fast new way to engage, educate, and entertain patients with IPTV
Internet Protocol Television systems (IPTV) is not just Over-the-Top streaming services like Netflix, Disney+, ESPN+ and Hulu. This is a new way of distributing and managing any signal sources to your patient televisions.
Use Ethernet Cables
Inexpensive

Fast and flexible to install

Easy to go farther
Reduce Operating Expenses
Save time! No need to amplify and balance signals
Easy remote management for network security, updates, and maintenance
Use with GENiO by PDi to easily toggle between cable and IPTV sources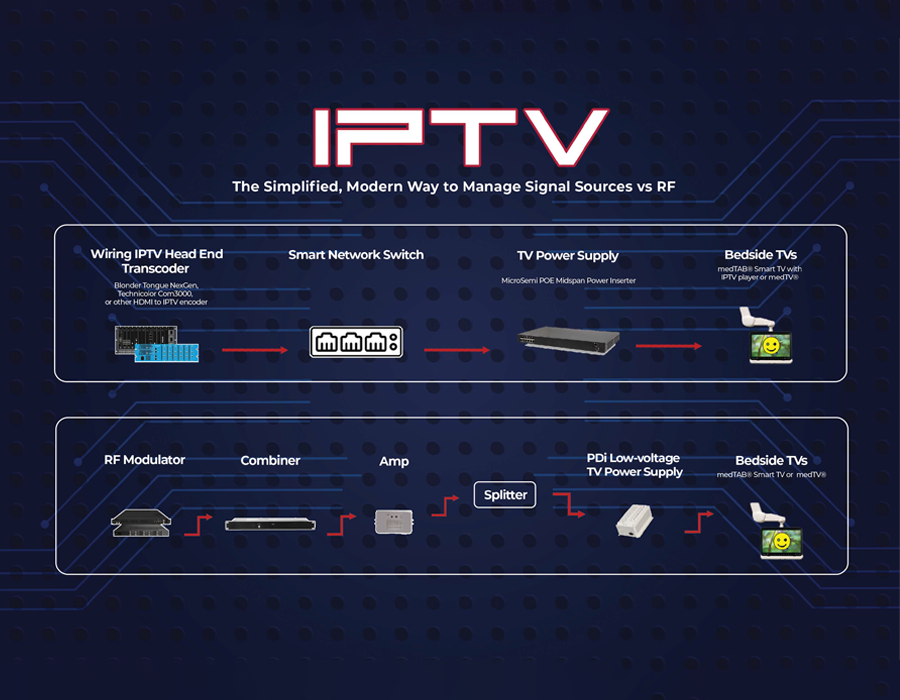 Are PDi TVs compatible with IPTV headend systems?

PDi works with COM3000 and Blonder Tongue headend solutions. All other headend systems require testing for compatibility. Talk to our PDi ProServices team!

How does IPTV work?

Similar to cable broadcasts delivering over a coax cable, IPTV signals deliver over an Ethernet cable using standard network equipment.

What is the difference in Cat 6 vs Cat 5 cables?

Cat6 reduces "cross-talk" so data can go faster, up to 10 Gbps, and can send signal farther. This is due primarily to a plastic divider in the cable core which keeps the pairs separated.

Cat5 also works for IPTV. It does not have the plastic separator so Cat5 is limited to 1 Gbps.

How do PDi TVs display IPTV?

PDi TVs have a built-in IPTV player, so no middleware is needed. The IP addresses are coded as part of the channel lineup in our GENiO content management system service.

With GENiO by PDi, you can seamlessly toggle between cable and IPTV sources.

Does IPTV work on PDi wall TVs or PDi arm TVs?

For PDi arm TVs, you can use power over coax with IPTV.

You can also order POE arm TV by PDi and use one Ethernet cable to do both power and IPTV. This does require a midspan power injector between the distribution switch and arm TV.

For A-Series smart wall TVs, use GENiO for IPTV.
Talk to us first.
Let's Work Together
We offer personal consults to save you time and money. We help you understand how all the pieces fit together. We have answers, start to finish. We help you do it right the first time. Small clinic or large hospital, we do it all.