Images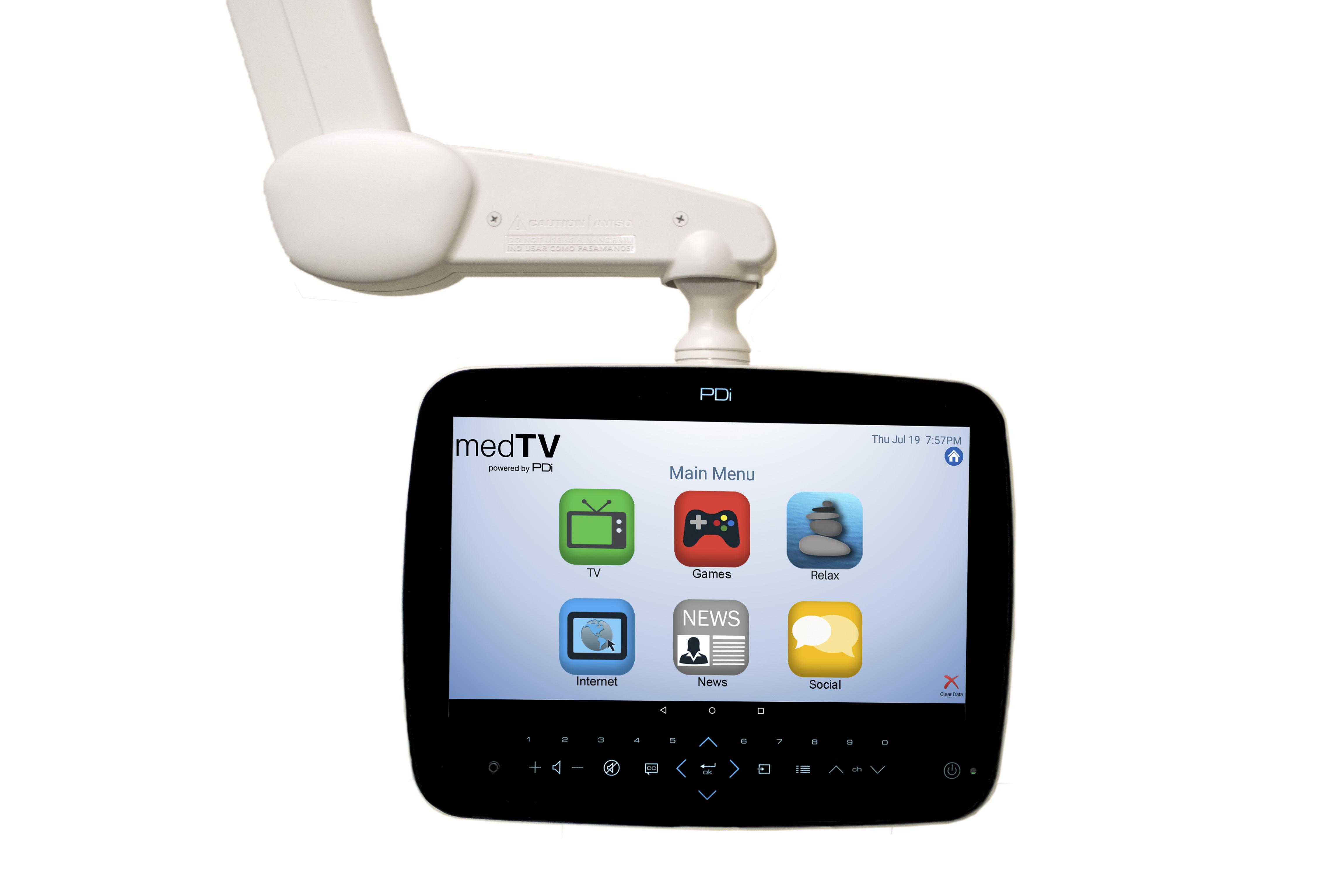 medTAB 14"
A 14" Bedside HDTV-TABLET with a Simple, Easy-To-Use Interactive Patient Experience
| medTAB14B

NEW

Complete System Specifications




with Power and Mounts Available Now



Description
A touchscreen experience patients understand and enjoy.
The 14" medTAB healthcare-grade TV-TABLET brings touchscreen TV and the freedom of the world wide web together in one device. Give patients the comforts of home with the ability to surf the web, play games, relax to ambient nature sounds, connect to friends and family and more - with an interface that's fun to engage with and easy to navigate.
Flexible and secure technology
Never worry about patient privacy. medTABs offer auto data clearing and a manual erase user data button so it's easy for you or the patient to wipe their personal information that might be left on the device. Secure mounts and continuous power also provide added security.
Enhances personal comfort
Create a comfortable and interactive environment centered around the patient with the medTAB arm mounted display that reduces neck, back and eye strain.
Leverage this affordable solution
Improve patient satisfaction and maximize CMS reimbursements with medTAB scalable solutions or compatible leading interactive patient software systems designed to improve patient experience.
Specifications & Features
Specifications
PART NUMBERS:
Standard cabinet color is starlight gray. Ask about black and cream
medTAB14B-GB2 ArmMounted 14" medTAB TV-tablet, COAX + CAT6(ENET), Android 5.1
medTAB14B-GB2-MP ArmMounted 14" medTAB TV-tablet with Cam/Mic, COAX + CAT6(ENET), Android 5.1
medTAB14BR-GB2 Rear VESA Mounted, 14" medTAB TV-tablet, COAX + CAT6(ENET), Android 5.1


Dimensions inches (W x H x D):
14.5" x 11" x 1.9" (36.8 x 27.9 x 4.8 cm)
Weight: 7 lbs

Display
1366 x 768 Display Resolution
LED Backlight
Lamp life up to 50,000 Hours

TV Features
USB Clone for Programmable TV settings
16:9, 14:9, 4:3 Aspect Ratio
MPEG-4 Pro:Idiom®

Computer
Android 5.1 OS (Lollipop)
1.2 GHz Quad Core Processor
1 GB RAM
8 GB Memory

Audio & Video
Speakers: 2@2-Watt RMS
1/8" Headphone Jack
Camera/Microphone: Optional
Features
Fully integrated all-in-one TABLET (Android 5.1) plus touchscreen TV
Built to UL healthcare-grade, low-voltage standards
Compatible with PDi arms and arm mounts or available as rear VESA mount 75x75mm
LED lighted PCAP touchscreen
Panel life designed to last more than 7years when powered on 18+hrs/day
Easy USB cloning makes TV set-up and Android updates quick and simple
Channel aliasing and remapping simplifies custom channel line-ups
Multi-user restricted patient profiles. Can automatically wipe user data.
Easy to clean glass screen and antimicrobial cabinet designed for infection control
Wifi and Ethernet Cable included (Note: arm part numbers will vary based on cable requirements)
Low voltage set, continuously powered over coax
Camera + Microphone Available
2-year warranty included or upgrade to 4-year Gold Vision Service Warranty (GVS)