As part of our 40th Anniversary celebration, we're publishing a special series of blogs throughout 2020. Each month you'll see insights from a different member of the PDi team. Our goal is to bring you more fully into the PDi family. Our eighth blog in this series comes to you from Bill Fisher, Electronic Service Technician.
Since 1980, PDi has built personal TV arm systems for patients. We are the only US manufacturer who offers one-stop-shop for the complete system. That includes the TV display, arm, mount, and low-voltage power supply.
We have answered many questions over the years, and designed solutions to solve many problems for healthcare designers, equipment planners and facility managers. Our PDi ProServices and PDi sales teams are happy to answer your questions too. We've been at this for 40 years.
Here are our top 5 most recent questions on PDi arm-mounted TV systems:
Are PDi Arm TVs Built for INFECTION CONTROL & Patient Safety?
YES. This is a PDi core competency, as we design and build only healthcare-grade TVs, not consumer TVs.
Patient safety is a top priority. Our arm-mounted, patient TV systems are designed to be bleach-cleanable to prevent the spread of infection. We build in antimicrobial coatings, design to be liquid resistant and exceed UL-Listed safety standards. You can trust that PDi TVs stand up to very rigorous cleaning in dialysis clinics, infusion centers, hospitals and other healthcare environments. Watch this video on the proper way to clean PDi TVs:
We also are the only OPM approved arm-mounted TV system for healthcare. Learn more about the selection of OSHPD-approved devices and systems for safe use in California and other earthquake prone areas.
Can you LIMIT VOLUME or turn off speakers?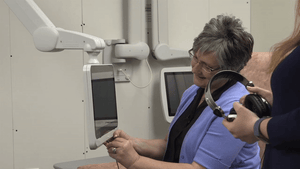 YES! We understand that noise is a common complaint on patient satisfaction surveys. The medTV and medTAB arm sets by PDi can improve the patient experience with volume limiters and headphone jacks. Advanced sound options on PDi TVs allow you to choose the min/max volume levels and enable/disable speakers by input source. Disabling the speakers is a common option in dialysis clinics, infusion areas or multi-occupancy rooms where patients use headphones for private listening. You can also set the "Power On Volume" to "Last Volume" or a preset sound level. We also offer the option for pillow speaker volume control on medTV19, if needed, on arm TVs.
Will my old POWER SUPPLY work with a new PDi arm TV?
YES! We are proud to design PDi TVs to leverage existing investments in PDi equipment. This means you can often reuse existing PDi arms, mounts, and power supplies when upgrading your patient displays.
All PDi arm sets run on AC or DC low-voltage power. In 2018, we designed an individual switching power supply (120VAC In / 24 VDC out at 2.5 amps) that offers greater efficiency and lower standby power, saving energy. The PDI-871 Slim Power Mount has no fuses or breakers to reset. It easily retrofits to your current PDI-179C hole spacing, and offers no wall penetration so it mounts to concrete or cinder block walls too. It also costs less to ship with its smaller, thinner design.
Traditionally, low-voltage PDi TVs get their power and RF signal over coax. We are proud to be the first to make a POE, Powered over Ethernet, future-proof patient television. The medTV16 will help meet the needs for those facilities having a desire for either an IPTV or coax broadcasting signal.
If you use the central, 10-tap power supply by PDi, remember these important requirements for the coax cable:
Coax must be solid copper core, solid copper braid. Recommended RG-6 coaxial cable numbers to use include Alpha9804C, Belden 9248, West Penn 806, or West Penn 25806 (plenum).

Max. home run distance for coax from central power supply is 150 ft.
Check out PDi low-voltage power supplies here.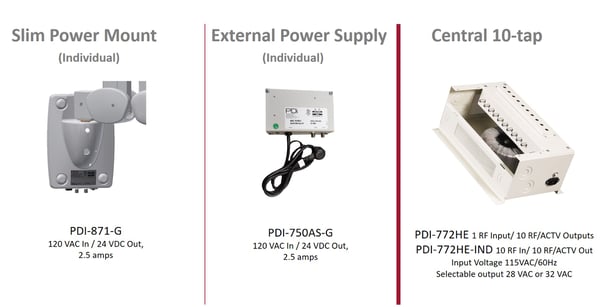 Does CLONING Save Time and Labor?
YES! Cloning allows you to quickly and easily copy settings and channels from one PDi TV to other PDi TVs. Since our P-Series TVs back in 2008, we have offered this feature to make your work easier and save time! Cloning can also be used to reprogram already programmed TVs. Clone operation involves first downloading setup information from a programmed host TV to a USB memory stick (thumb drive) and then uploading the setup information to another TV.
For many newer model PDi TVs, clone files can be loaded to the PDi RF-HEMiS Head-end TV Server and quickly distributed to all TVs. This cost-effective solution automatically sends data over coax, and there is no limit to the number of clone files you can manage at a time. You may also remotely push updates to TV firmware or customize the TV splash screen image without disrupting patients.
Why Choose PDi Arm TVs vs Wall TVs?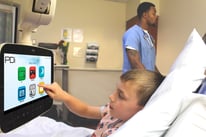 This sounds like a personal question, and it is. PDi arm-mounted TVs are personal, and they offer greater patient privacy compared to wall TVs, especially when accessing personal health information on SMART TVs. The arm TV and tablet systems are easier for elderly patients to see and hear, as they can easily move the device nearer to them. In fact, do you realize a 16" personal display is equivalent to a 90" wall TV experience? Having an arm-mounted entertainment system in Children's Hospitals allows parents to swing the display over the crib to soothe a crying child. The arm system can also swing away from a sleeping child for parents to relax with less noise and less light directed toward the sick child. PDi arm-mounted solutions are configurable for many healthcare spaces, and devices are built with both swivel mounts or rear VESA mounts, such as on medTV mobile TV carts.
medTAB interactive touchscreen patient systems by PDi empower patients to interact and offer several advantages versus iPads. medTAB, available 14", 16", and 19" class displays, are designed and built for infection control, securely mounted so they are more comfortable for patients to use during long hours of treatment and won't be lost or stolen, don't require batteries or battery charging stations, and offer both WIFI and Ethernet capability.
medTAB is the only arm TV where you choose the user experience. It comes preloaded with TV, games, and relaxation apps for added distractions to satisfy patients of any age, or you can choose to allow internet access for even more social connectivity and entertainment options.
At PDi, we answer directly to our customers, and stand behind our products. PDi is not a publicly traded company. We offer the best 3-year warranty from the date of delivery, and an optional 5 year extended warranty.
Those are our most popular recent questions. For other questions, please check out our FAQ page, call us at 800.628.9870 or send us a message today. At PDi, we do what is right. We want you to have all the information you need to make the best choice for your patients at your facility.