You've probably heard about Power-over-Ethernet and some of the benefits of PoE. Are you ready to learn more about this cost-effective and forward-thinking technology for use in hospital televisions?
Here are the answers to some Frequently Asked Questions.
What is PoE?
Power-over-Ethernet (PoE) is just what it sounds like, the power for a device is transferred over a Cat5e or Cat6 Ethernet cable rather than using traditional power supplies. Simply put, both power and data are transferred over one Ethernet cable.
PoE changes the typical powered device setup because PoE devices eliminate the need for AC/DC power and installation of individual wall outlets for power at the device. The PoE power injector allows for power control over the devices that are hooked up to them through PoE.
Where is PoE used in a healthcare facility?
Voice over IP (VoIP) phone systems and security cameras are popular applications using PoE.
US-based PDi is proud to have released the industry's first UL-Listed PoE low-voltage, 16" personal patient televisions and touchscreen tablets.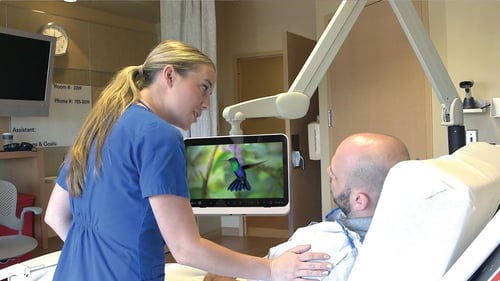 Traditionally, low-voltage PDi patient TVs get their power and RF signal over coax. Now the 16" arm-mounted personal patient televisions, medTV16, and touchscreen medTAB16 products are both available either as Powered-over-Ethernet or Powered-over-Coax.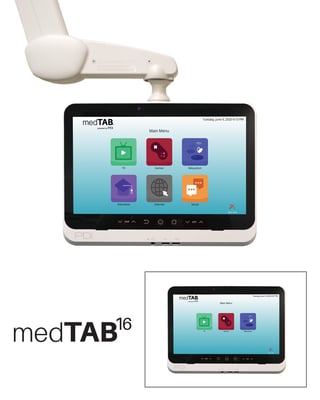 There are many levels of PoE power. To power PDi devices, use only UL-Listed power sourcing equipment that offers 72W per port (60 W minimum) using all 4 pairs for power delivery. This is sometimes called UPoE, PoE++or 3bt type

3

.

PDi recommends the Microchip Microsemi PD-9506G/ACDC/M https://ww1.microchip.com/downloads/en/DeviceDoc/PD-95XXG-Datasheet-May,2014.pdf midspan power inserter. The PoE midspan power inserter will be positioned near the ethernet switch, with short cables connected to the switch, and longer cables running to each PDi device.



2 midspan port connectors (Data In port and Data/Power out port) are used for each PDi device.
How can PoE patient TVs help you?
Years ago, PDi already solved the problem of installing individual wall outlets by using the PDi ten-tap central power supply to eliminate the need for wall outlets at the bedside TV. Now the value of PDi PoE hospital TVs is in putting power over the CAT cable so you don't need a coax cable, unless your signal is delivered over coax.
A summary of benefits of PoE patient TVs includes:
Prepares your facility for future internet protocol television (IPTV) broadcasting signal.

Lowers installation costs since you don't need an electrician for individual wall outlets.

Saves ~$4,000 in cabling cost for 20 TVs since Ethernet cables cost less than coax.

Accommodates a longer home run distance (100m or 328ft)

between TV and power inserter. This is longer than 150 ft. runs PDi does today using RG-6 solid copper coax cable to each TV.

Provides a safe, reliable, and clean look with fewer cords

at the hospital bed or clinic TV.




Watch this video about PoE on personal patient televisions
Overcome Myths about PoE
Let's clear up some misconceptions.
First, PoE does not require

special wiring. Cat5e/Cat6 and RJ45-type connectors are used just like in a regular local area network.

Second

, IEEE 802.3 standards have gained universal adoption and assure compatibility with modern equipment. The IEEE 802.3 standard is one of the most widely used standards for computer data networking and general data communications.

Lastly, the PDi powered device is energy efficient. While the recommended midspan injector must have 60-watts available per port to meet peek power usage requirements, the PDi device typically draws less than half of that.
For a detailed summary of IEEE 802.3bt, download this whitepaper by Microchip: https://page.microchip.com/download-PoE-IEEE-802-3bt-White-Paper.html
---
Continue the conversation about PoE TVs...
Are you ready to see if PoE or IPTV is right for your healthcare facility?
Connect with an expert at PDi today. We can help guide you to the right solution.