Communication is the heart of patient experience. Yet, in a time of visitor restrictions in hospitals, how can you use smart TVs to help build connections with your patients now and in the future?
It is no small challenge to upgrade old analog TVs and incorporate new technology into a complex hospital or healthcare setting. Investing now in Smart TV technology will satisfy patients and grow with your needs. Choose Smart hospital TV technology to work for you to help streamline patient requests, improve workflows to consistently educate patients, increase patient entertainment, engagement and empowerment.
Large screen Smart Hospital TVs are created for a variety of healthcare spaces. These sets by PDi offer enhanced entertainment for patients to enjoy TV, games or relaxation out of the box, no internet required. PDi's large screen hospital TVs connect patients now and in the future by offering universal pillow speaker control, EPIC MyChart BedsideTV, IPTV, and unique customization options.


Smart Hospital TVs have Universal Pillow Speaker Control
Many hospitals and healthcare facilities use pillow speakers as their patient TV remotes. Many pillow speakers allow for easy control of the TV and connect with the facility's nurse call system.
All PDi wall mounted televisions include a connection port for universal pillow speaker control and easy navigation with the device. PDi's TV audio can also play on pillow speakers that have this capability, which can decrease the amount of noise on the floor and create a more private listening experience for the patient.
For A-Series Smart wall TV controls for custom software, the pillow speaker must be a numeric or navigational keypad having a Back, Last or Guide button.
Smart Hospital TVs are Epic MyChart Bedside TV Ready
Another great feature of PDi's A-Series Healthcare TV's is that they are Epic MyChart Bedside TV ready. That means patients have real-time access to their health information available in Epic MyChart easily shown on the TV in their room. This feature helps patients feel more involved and engaged in their care and can increase communication among the patient and caregivers. See how Geisinger St Luke Hospital integrated Epic MyChart on their PDi SmartTVs in their new space.


Smart Hospital TVs are IPTV Capable to Expand Entertainment
PDi's large screen TVs are IPTV capable. What is IPTV? IPTV or Internet Protocol Television is a way of distributing and managing signal sources to your patient televisions that can save time and reduce operating expenses. It offers a better quality signal, a fast way to engage patients, and allows you to broadcast what is most important to your patient experience including expanded entertainment, education resources, daily activities, real-time information and more.
If you want to talk to someone about how IPTV can work at your facility, schedule a call with PDi experts today.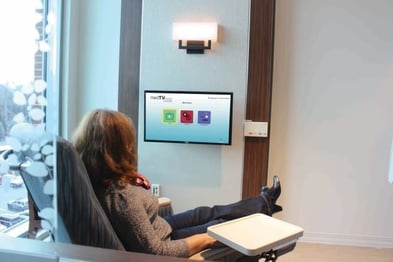 PDi Smart Hospital TVs Offer Unique Customization Options
Remote management saves staff time.
Whether or not you choose internet for your TVs, is up to you and will still be beneficial. Without internet, there are still really great built-in features that make the A-Series better than just a standard consumer TV, including built-in games and relaxation content to make a patient stay or visit more pleasant.
When you are ready to enable internet, you can create a more personalized experience for your patient. The A-Series offers GENiO™ – PDi's, optional cloud-based web portal that allows you to customize your patient experience easily and affordably. If you want to provide patients with links to your education videos, daily menus, send messages, patient surveys, and more, GENiO is a cost-effective option for you.
______
Ready to improve your patient-centered care with a Smart hospital TV experience at your facility? We're ready to answer your questions or provide a demo. Give us a call today.