Images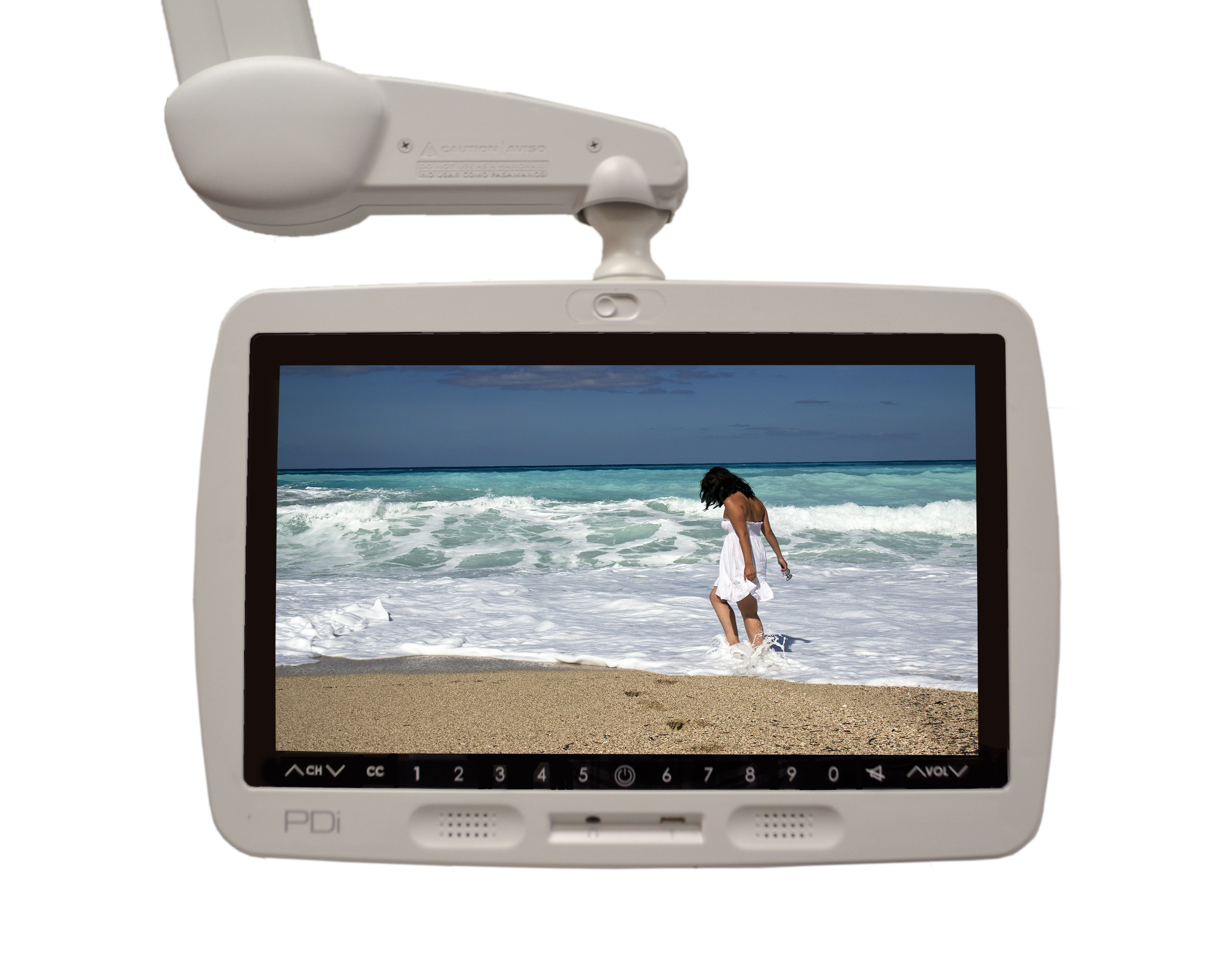 medTV19
19" Arm-mounted Healthcare-grade Widescreen Patient HDTV with Integrated Pro:Idiom® and RF-HEMiS™ Headend TV Server Compatible
| PDi-P19TV
NEW

Complete System Specifications




with Power and Mounts Available Now
Description
Designed to satisfy patients, comfortably.
Big, Bold and Beautiful
The large numeric keypad is easy for patients to see and touch to change channels and volume. This personal 19" display offers a wide viewing angle for maximum patient comfort and delivers the experience of a 90" wall TV across the room.
Delivers Patient Satisfaction
This widescreen, personal, securely mounted TV display reduces neck, back and eye strain. Patients enjoy the front-facing speakers and headphone jack for clear-but-quiet audio. Pro:Idiom® makes it easy to keep every patient entertained with more HD channels.
Built for Healthcare Standards
medTV19 is designed for infection control. The glass front can withstand rigorous cleanings, and the antimicrobial plastics help limit HACs. It's compatible with PDi low-voltage power supplies and swing arm mounts or designed for rear mount to a standard 75x75 VESA pattern.
Fast, Easy TV Cloning
RF-HEMiS Head-end TV management or easy USB clone capable.
Specifications & Features
Specifications
PART NUMBERS *

Standard cabinet color is starlight gray. Ask about black and cream

PDI-P19TV-GA-C

PDi, 19" Arm-mounted TV Model, Gray, Coax

PDI-P19TV-GB-C

PDi, 19" Arm Mounted TV Model, Gray, Coax, CCI

PDI-P19TVR-GA-C

PDi, 19" Rear VESA Mounted TV Model, Gray, Coax

PDI-P19TVR-GB-C

PDi, 19" Rear VESA Mounted TV Model, Gray, Coax, CCI
*Part numbers vary based on custom cable, color, or power options. Call for more information.
PANEL
Diagonal Size

18.5'' (47cm)

Display Resolution

1366 x 768

Contrast Ratio

1000:1

Viewing Angle

170° (H) / 160° (V)

Luminance

300 nits

Backlight Life

50,000 hours

Backlight Type

LED
INPUT/OUTPUT
RF Input (TV)

1 (75ohm Unbalanced)

HDMI

2, Optional

CCI, MTI, Composite


(call to inquire about




additional inputs available)

Optional

Universal Pillow Speaker

Optional

Speakers

2x2-Watt RMS

Front Headphone

Yes, 1/8" jack
REGULATORY
UL/cUL 60065 Annex Q

Yes

FCC Title 15, Part 47, Subpart B

Yes

RoHS

Yes
SUPPORT STANDARDS
Antenna Input

NTSC, ATSC, Qam in the Clear (Air VHF/ UHF,CATV,IRC,HRC)

Dolby Digital

Yes

MPEG-4 & MPEG-2

Yes

Pro: Idiom®

Yes
SET-UP FEATURES
Audio Volume Limiter (AVL)

Yes

Internal Speaker Disable

Yes

Min/Max Volume Limiter

Yes

Start/Power-on Volume

Yes

USB Cloning Capable
- TV Cloning
- Firmware Updates

Yes

PDi Program Remote Compatible

PD108-420

Parental Control (V-CHIP)

Yes

Auto Power On

Yes

Programmable Source Selection

Yes

Password Protected Set Up Menus

Yes

Channel Enable/Disable

Yes

Channel Aiiasing/Remapping

Yes

Menu OSD

English/French/ Spanish

Factory Reset

Yes
POWER
Source

Power over Coax

Max Consumption

34W

Standby Consumption - Normal

9.8W

Standby Consumption - Low

1.4W
DIMENSIONS
Weight

12 lbs. (5.9 kg)

Unit Dimension - Swivel

20" x 17" x 2.5"

(W/H/D)

508 x 432 x 64 (mm)

Unit Dimension - VESA

20" x 13.75" x 2.5"

(W/H/D)

508 x 349 x 64 (mm)
Features
UL Listed, low voltage, widescreen HDTV

Large, easy to push, direct entry channel buttons allow patients to access their favorite channels with ease

Front facing speakers and head- phone jack minimizes noise and keeps the oor/unit quiet

Extended panel life, designed to last more than 7 years when powered on 18+ hrs/day

RF-HEMiS Head-end TV Management or Easy USB cloning makes TV set-up and updates quick and simple

Password protected set-up menus prevent patients from altering settings with IR remotes or remote control phone apps

Channel aliasing and remapping allows facility to customize and simplify channel line-ups

Compatible with PDi swing arms or available as VESA 75 x 75 mm mount resulting in a mounting solution for any situation

Powered over coax using PDi UL-Listed low-voltage power supplies

Standard cabinet color is Starlight Gray. Ask about black or cream.