It may feel like you should be able to easily choose just any TV you want for your healthcare facility. We do that for our homes, why not in a place that should be comforting like home? Healthcare-grade TVs are different, and for good reason.
Have you ever considered the legal consequences of a patient receiving shock and injury from a consumer-grade television used in a healthcare environment? Have you considered the risk of an electrical fire from a TV at your facility? Do you realize patient TVs at healthcare facilities will naturally be powered on for longer periods of time as compared to typical consumer TV usage at home? In fact, Healthcare-grade TVs run typically 3x longer per day!
Designed for patient safety and for the unique stresses of the healthcare environment, hospital TVs offer facility managers and providers the following benefits:
reduced risks with increased safety designs;
reduced labor with easy setup, remote management or cloning for ease of operation, and affordable upgrades;
universal pillow speaker capability and volume control features to reduce noise on the floor;
and standardization across the network.
Here are a few ways choosing Healthcare-grade hospital TVs versus consumer-grade TVs will make your life easier at your healthcare facility. Read this blog for more on the benefits to patients.
Less Risk Using Healthcare TVs for Patients
In many cases, patients at infusion or dialysis clinics or hospitals are going to be hooked up to medical equipment or IVs during their hospital or clinic stay. Obviously, you want to keep these patients safe in every way, including with the entertainment options provided to them.
The National Fire Protection Association (NFPA) has risk-based guidelines that hospitals and healthcare facilities need to follow to prevent shock and fires caused by electronics in patient care areas. Healthcare-grade TVs by PDi Communication Systems, Inc. follow the four risk-based requirements from the NFPA 99 Health Care Facilities Code. Additionally, with 5x less leakage current, patients have much less shock potential on personal arm-mounted displays built by healthcare industry leader PDi.
For a quick view on other safety features, click this image to download an infographic:
Why healthcare TVs matter?

A Healthcare-grade TV reduces the risk of burns because it is built not to overheat. PDi TVs operate at 25˚C, compared to 60˚C of comparative consumer grade TVs. Also, the high quality electrical components will not overheat as they dissipate heat more effectively vs consumer TV sets, even if used for long hours a day.
UL Listing of patient TVs offers safe use in healthcare. Refer to this whitepaper to learn more about UL6500, a North Americanized version of the International Electrotechnical Commission (IEC) Standard 60065, Audio, Video, and Similar Electronic Apparatus – Safety Requirements.
---
Ease of Operation & Affordable Upgrades
We all want to save time when possible. Most hospital-grade televisions enable clone programming which allows TV settings to be saved digitally and quickly loaded to other sets. This feature greatly reduces set up time and labor. So, what exactly does that mean?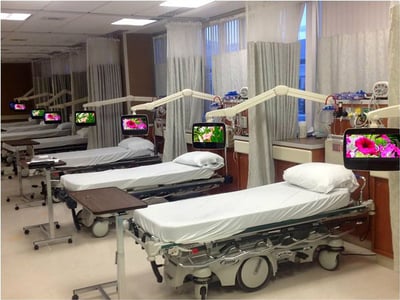 You can't just hang a TV and walk away; you have to make sure you add the necessary inputs and settings to the TV. Just like at home, you have different inputs to your TV display. You can choose to offer either Satellite TV or Cable TV to patients. You may also want to use the patient televisions to show a welcome video or patient education channel. These channels can come from a DVD source or website. Local broadcasting channels via antenna are also nice to deliver to entertain patients.
See the complete head-end to bed-end experience.
Having to go into each TV and change the settings can be time consuming and cumbersome. With PDi's Healthcare-grade TVs, you have three easy ways to setup or update TVs:
Watch this YouTube video for easy

USB-cloning

to digitally transfer settings

Centralized on-site head-end TV management using the RF-HEMiS

.

Eliminate labor-intensive TV touches, expedite TV setup during installation, and push updated TV channel line-ups to every TV without disrupting patients using centralized user-friendly software. Automatically send data over coax, set volume limit controls to improve the patient noise experience, control channel access for specific hospital wings (groups of TVs), and send custom TV splash screens automatically.
Use

GENiO cloud-based remote management

to adjust settings without leaving your office. No need to hire additional staff to act as a patient liaison or IT concierge staff to manage patient technology by PDi. The latest

medTAB personal patient TVs are customizable

to deliver the patient experience to meet your patient engagement initiatives. That means add links to telehealth, patient education, daily menus, and more.
We all want to save money too! PDi is uniquely qualified as a highly-valued partner for designing affordable patient TVs. Backwards compatibility allows you to leverage your current PDi TV technology for added features or upgrades. Older model Persona P10 TVs and P14W sets can be upgraded to medTV16 while keeping your existing PDi arm, arm mount and power supply. Similarly, medTV19 replaces the Persona P15X sets.
With state-of-the-art manufacturing, PDi brings the capabilities to customize hardware solutions for personal patient TVs to fit any building requirements. PDi arm systems reach from 17" thru 72" to work in small patient spaces, tall ceilings, and any unique building infrastructure.
Plus, unlike other brands, with PDi you won't waste time looking for the right remote. PDi has used the same TV programming remote for years. Shop now for the PD108-420.
---
Control Noise on the Floor
We all realize the importance of patient satisfaction and noise on the floor. The hospital TVs should not contribute to noise pollution. Ultimately, the goal of providing patients with TVs is for distraction, entertainment and education purposes.
A bonus of healthcare-grade TVs is that you are able to control the volume from the device using the maximum volume setting on the TV. This reduces the impact of noise for providers and other patients.
Unlike commercial or consumer TVs, it's standard procedure for hospital-grade televisions to work with pillow speakers and nurse call systems. These features allow patients to control the TV and call the nurses' station without ever having to leave their bed. Using a healthcare-grade TV with pillow speaker means you can disable internal speakers and control the noise across the patient room. However, not all pillow speakers are designed the same and connect to all medical-grade TVs.
Designed and built for healthcare use, the A-Series Smart hospital TVs by PDi make your life easy with advanced features for integrated universal pillow speaker controls. This means no external boxes to manage, and less likely you will need to replace the pillow speakers to control your TVs.
If you need it, you will find the option for pillow speaker controls on 19" PDi arm-mounted personal patient TVs too. Wireless audio and headphone jacks are great options on personal patient TVs also.
---
Standardize TVs Across Your Healthcare Network
As healthcare facility managers, you have responsibility across many building systems. Make managing TVs easy and hassle-free with PDi. Standardize the patient experience across your continuum of care. Choosing one brand of healthcare TVs will make maintenance a breeze for your staff, and supports a consistent brand identity.
For help every step of the way, contact PDi ProServices.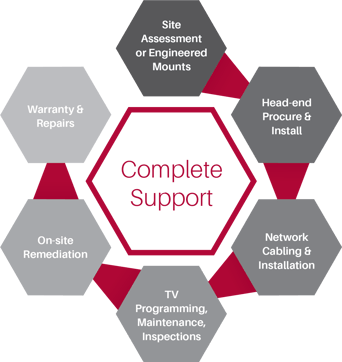 ---
Safety and patient experience are behind every decision made at healthcare facilities and hospitals. That is why safety and experience is also always behind our products at PDi, including the design and manufacturing of TVs for healthcare and hospital rooms.
Ready to bring value to the bedside at your facility? Choose safe, hassle-free patient TVs and contact PDi.