Fun isn't typically the first thought that comes to mind when thinking about a hospital stay or an outpatient visit. Patients often find themselves bored or even stressed and anxious without ways to distract and entertain themselves during treatment. Luckily, healthcare-grade TVs offer an entertaining technology solution that is engaging and safe for your patients.
Did you ever think about the safety of a patient TV? With PDi, it doesn't have to be a difficult task.
Here are three reasons why you should choose a UL-Listed, healthcare-grade TV for your patients. For insights on the benefits to facility managers, read this blog.
Healthcare-grade TVs are built for patient and provider safety

TVs in healthcare settings undergo a lot of stress - often powered on for up to 18 hrs per day. That's why UL-Listed, healthcare-grade TVs are designed for patient safety and offer reduced risks for healthcare providers.
Healthcare-grade TVs offer these safety features:
Reduced risk of burns. Healthcare TVs operate at a lower temperature and the high quality electrical components will not overheat as they dissipate heat more effectively vs consumer TV sets, even if used for long hours a day.
Non-toxic, flame resistant TV cabinets are designed to self-extinguish in the event of fire.
Safer for patients having an IV. With 5x less leakage current, patients have much less shock potential on

personal arm-mounted displays

built by industry leader PDi.
Proper sanitation is critical in preventing hospital acquired infections. Antimicrobial coatings and

ease of cleaning personal Healthcare TVs

decrease the risk of hospital acquired infections. Spilled liquids can not easily enter a healthcare-grade set vs consumer-grade televisions which can be a breeding ground for dangerous bacteria and viruses.
UL Listing offers safe use in healthcare. Refer to this

whitepaper

to learn more about UL6500, a North Americanized version of the International Electrotechnical Commission (IEC) Standard 60065, Audio, Video, and Similar Electronic Apparatus – Safety Requirements.
Additionally, the National Fire Protection Association (NFPA) has risk-based guidelines that hospitals and healthcare facilities need to follow to prevent shock and fires caused by electronics in patient care areas. Healthcare-grade TVs by PDi Communication Systems, Inc. follow the four risk-based requirements from the NFPA 99 Health Care Facilities Code.
Click this image to download an infographic:
Why healthcare TVs matter?

---
Healthcare-grade TVs are designed for less noise in patient spaces
Pillow speakers are special remotes that patients can use to control the audio of their patient room TV. This feature allows for patients to hear their audio close by and reduce the volume of noise across the room and on the patient floor. However, not all pillow speakers are designed the same and connect to all medical-grade TVs.
PDi's A-Series Smart medTV's have universal pillow speaker recognition, making it easy to work with many brands of pillow speakers to lessen the concern on whether or not patients can control the television from their bed or chair.
Personal patient healthcare TVs also include headphone jacks for those who enjoy listening with headphones. Learn more about Personal TVs by PDi, and make your standard of care memorable.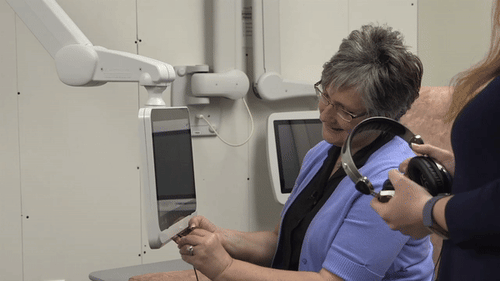 ---
Healthcare-grade TVs improve the patient experience with preloaded or custom apps
One of the huge benefits of Healthcare-grade TVs is that they can add to your patient experience. Healthcare-grade TVs can be expanded beyond basic TV to offer more entertainment and education options for your patients. Some of these special features can include games, relaxation, links to telehealth or video calls with friends and family, internet access and more.
Additionally, educational resources can be provided to patients through publicly available sources like YouTube, your website, CDC.gov, or in-house education content via a DVD player in the headend system.
Watch this video on how easy it is to customize the patient experience your way using GENiO by PDi:
Get Genius Smart, Go GENiO
---
There are many more benefits of TVs for healthcare and hospitals. Healthcare-grade TVs can be set up to include cable TV, Satellite TV, DVD, and In-house Channels. They can be set up with Bed A/B/C/D remote control settings to avoid the chance of patients changing other patient's channels.
Ready to hear more about healthcare-grade TVs for your facility? Give us a call.