Choose healthcare-grade patient TVs designed for patient safety, rather than simply shopping at your local consumer electronics store. Following the requirements from the National Fire Protection Association (NFPA) ensures that you give your patients or senior living residents access to excellent TV entertainment, while making their safety a top priority.
All electronics present risks, especially for patients who may have an IV or other break in their skin. This puts them at a higher risk of being shocked by any powered electronic device, even those in good condition. The NFPA has risk-based guidelines that hospitals and healthcare facilities need to follow to prevent shock and fires caused by electronics in patient care areas.
As the largest patient television manufacturer in the US, at PDi we spend a lot of time talking about patient

safety. We do it for a good reason. Did you know that there are actually four risk-based requirements from the NFPA 99 Health Care Facilities Code that you should comply with to provide the safest patient TV experience? Let's explore these safety codes further.
NFPA 99 Regulations for Patient Television Safety
1. Grounding requirements for the power cord on your patient TVs.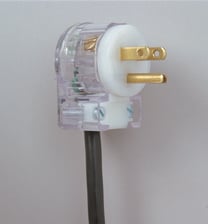 NFPA 99 Code reads: "8.4.1.2.1.1 All cord-connected electrically powered appliances that are not double insulated and are used in the patient care vicinity shall be provided with a three-wire power cord and a three-pin grounding-type plug."
Do your consumer-grade televisions have this three-wire cord with a three-pin grounding plug? If not, there is increased risk of shock to the patient or fire at your facility. PDi hospital-grade TVs use a dedicated grounding conductor, safely carrying away fault and leakage currents, to reduce these risks.
2. Current leakage limits for patient televisions.
NFPA 99 Code reads: "8.4.1.3.5.1* Leakage Current Limits. The leakage current for cord-connected appliances shall not exceed 300 µA."
The lower leakage current protects patients from shock. Most consumer or commercial televisions are likely not subjected to the array of tests outlined in the NFPA's standard. PDi hospital-grade TVs have a maximum AC leakage current of 300 microamperes, compared to 500 microamperes for consumer-grade sets.
3. The need for the appropriate TV power cord.
NFPA 99 Code reads: "10.2.2.1* Attachment Plugs. Attachment plugs listed for the purpose shall be used on all cord-connected appliances."
These hospital-grade TVs use plugs that have been listed by UL or ETL which includes stronger testing. The hospital-grade plug also offers better mechanical properties for a stronger connection and visual polarity identification. Non-healthcare grade TVs don't meet these strict requirements.
4. Use flame-retardant materials.
NFPA 99 Code reads: "10.2.7.1.1 Materials used in the construction of, and supplies for, electric appliances shall be noncombustible or flame retardant and impermeable to liquids (such as water and intravenous solutions) and gases to the extent practicable; or the materials used in the construction of, and supplies for, electric appliances shall not ignite from internal heating or arcing resulting from any and all possible fault conditions."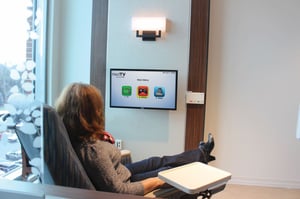 At PDi, we use non-toxic, flame resistant, fire retardant materials designed to self-extinguish to keep our customer risks low and their patients safe. Plastic TV cabinet enclosures that can be touched can only reach 25℃/77℉ for hospital-grade TVs. Consumer-grade devices have a maximum temperature rise of 60℃/140℉. This lower operational temperature requirement keeps patients safe and reduces the risk of burns.
While these are the main patient TV requirements from the NFPA codebook, there are also other requirements hospital-grade TVs must follow that protect against shock and fire risk. Most importantly, there can be no enclosure openings on non-vertical surfaces so spilled liquids and objects can't enter a product. At PDi, where we only design and build healthcare-grade displays, we design our hospital TVs so any vent holes and openings allow liquids to drain away from any electrical components.
Learn more about the many different benefits and features PDi healthcare-grade TVs.
Ready to buy?
If you have more questions, please give us a call 800.628.9870. We are with you every step of the way.