Are you wondering what TV equipment to buy, how to safely install and control televisions for patient entertainment or patient education in your clinic, hospital, surgery center, senior living center or other healthcare space? With 40 years of audio/video expertise in healthcare, PDi can help!

At PDi, we design, manufacture, install and service complete patient televisions and accessories. We only build healthcare-grade TVs and tablets, not consumer grade TV sets. We have displays from 14" through 55", TV brackets and arm mounts for every healthcare space. If we don't have one that meets your needs, since we're the manufacturer, we can design a solution to fit your unique healthcare space!
Our team is here to support you throughout the entire process, from choosing the products you need through the final installation and any additional service support. To make this process easier, here are five questions you can think about and keep in mind as you prepare to talk with our team of experts.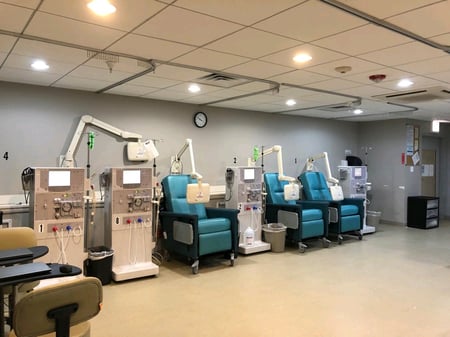 1. What type of healthcare facility are you outfitting?
PDi has served customers in many healthcare sectors, including hospitals, long-term care, ambulatory surgery centers, dialysis clinics, cancer centers, and many more. As you know, each space has different unique needs, and we have a solution to help you create the patient experience you envision. Whether you have a semi-private or private acute care inpatient space or a dialysis clinic with counters or an open-bay infusion pod, we've solved many different layouts.
Is your project new construction or a renovation? Do you need to conform to existing infrastructure, low ceilings or other constraints? We have solved many of these design problems for past customers, and have a horizontal arm that is great for renovations. It is easily installed above existing bed lights or other fixtures. In fact, we have nine different ways to mount our arm-mounted television systems, and we're constantly innovating for our customers. Our floor mounts are excellent options for exam rooms or large infusion clinics, while the high-tilt ceiling mount is perfect for cardiac care units where patients need to remain flat on their backs. We have mounts from the floor to the ceiling to the headwall, and everything in between. Just ask!
2. What TV display options exist for healthcare spaces?
Many equipment planners design for a large-screen wall TV and don't even realize the available design options for personal patient televisions. There are three things to think about with TV display hardware: the type of TV device, whether you want Internet access, and how you'll power your devices.
Are you looking for personal patient televisions that will be mounted near the patient's bed or chair, or are you in the market for a footwall, large-screen TV? Noise and patient privacy are two important factors that play into this decision. In semi-private rooms and multi-chair clinics, personal devices are often the way to go to maximize patient privacy, especially during long hours of treatment. With personal devices, too, patients can use headphones to keep noise levels down, and the medTV16 has forward-facing speakers that also help control noise.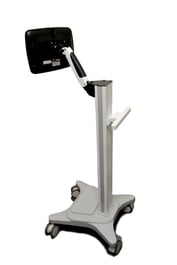 Is your facility going to offer more than just simple TV? As telehealth becomes more popular, many patients are becoming accustomed to meeting with their doctors, or at least being able to access their records online. Will you be offering this service? Or maybe you just want to offer Internet access for added distraction and entertainment. This is also a great time to think about future needs and budget, so that you can get the most robust system possible for your needs now and in the future. For instance, PDi medTAB devices offer integrated camera/microphones for telehealth or video calls.
How do you get power to patient televisions? Do you realize you can save the expense and challenge of finding a master electrician when choosing PDi low-voltage personal patient televisions which are powered over coax or the new POE? If your facility already has electric outlets available at every bedside, there is an option for an individual low-voltage power supply per display. However, if electric outlets would need to be added to many or all of the rooms, the challenge of bringing in an electrician could cause an unnecessary expense.
If you don't want to use individual electric outlets, there is another solution. A centralized, low-voltage power supply can be used to power up to ten units, with the central power supply unit located in a closet down the hall. This central power supply will save the money and challenges in finding a master electrician.
PDi is the first to offer the new Power-over-Ethernet option on medTV16 for an even more forward-thinking, cost-effective patient television system installation. Using truncated RG-11 power over data with short runs of RG-6 cable to each station can save money on cable installation. Want to learn more? Call the experts at PDi.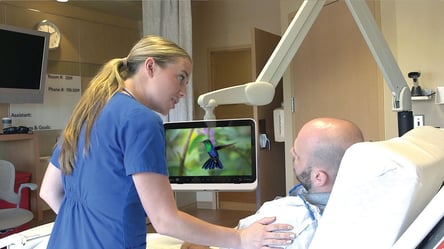 3. Who provides your television signal?
Just like at home, you have the choice to offer either Satellite TV or Cable TV to patients. If you choose satellite, you can use DIRECTV® or DISH. The CATV choices are endless and include Spectrum, Comcast, Cox and more. You may also want to use the patient televisions to show a welcome video or patient education channel. These channels can come from a DVD source or website. Local broadcasting channels via antenna are also nice to deliver to entertain patients. Headend encoders and decoder equipment may be necessary to deliver these signals. Let PDi help you deliver meaningful, relevant content and empower your patients, or simply distract and entertain your patients.
PDi and our ProServices team can advocate for you by helping with choosing a signal provider. Many purchasers "don't know what they don't know yet." We can save you time and money by helping you ask the right questions up front.
We can directly quote DIRECTV or consult with you to ensure you invest strategically in CATV options that best meet your needs.
We also help select the right distribution equipment to ensure it is the best and most cost-effective solution the first time, a clean installation and easy-to-maintain system.

Order the right parts
Install the right cable
Design for the least construction cost, too!We will perform a site survey to help you avoid common mistakes:
PDi ProServices delivers a wide range of services, and we guarantee our cabling and installation work.
What headend equipment do you need? Depending on how many TVs will need a signal from the headend, we can offer the RF-HEMiS to make your life easier with centralized TV management.
4. What installation and cabling will you need done?
Having the right cabling is critical for low-voltage TVs in the healthcare space, and there are a number of requirements that must be met:
Solid copper core, solid copper braid coax (we recommend these RG-6 coaxial cable numbers Alpha9804C, Belden 9248, West Penn 806, or West Penn 25806 (plenum))
Max coax home run distance from the central supply is 150 feet.
Max HDMI distance is 35 feet; for 50 feet use a booster.
PDi ProServices can be with you every step of the way to ensure that your facility is configured correctly. Our dedicated and experienced technicians can help you throughout the installation process and beyond.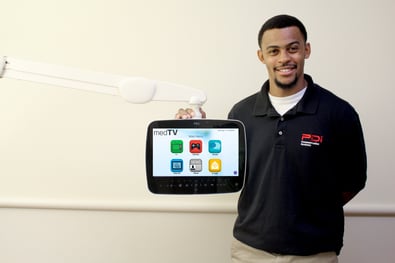 5. Why should I choose PDi products instead of a consumer option, like an iPad?
Well, there are many reasons healthcare TV-tablets are a better choice than iPads for a healthcare facility. Because they're healthcare-grade, they're designed specifically for this setting, are low-voltage to prevent shock, are manufactured to withstand heavy cleaning, are continuously powered and are securely mounted to prevent damage or theft. Our TV products also come with a standard 3-year warranty, with an optional 5-year extended warranty.
Beyond that, our medTV and medTAB products are first and foremost televisions and can receive broadcast signals. Hospitals don't have the commercial license for TV streaming on iPads, so patients would be unable to access their typical cable or satellite TV programs, which can be a disappointment for many patients.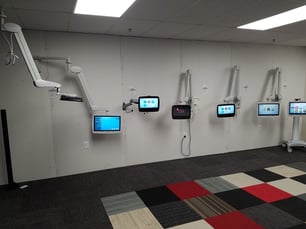 ---
So now you know the primary things to be thinking about when planning for a TV installation in your healthcare facility. If you have any questions or are ready to take the next steps in this process, give us a call at +1-800-628-9870.
PDi sets the standard of excellence in customer service and support for healthcare entertainment systems.
We're here to help, so let's get started.