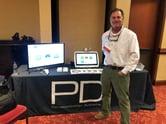 As part of our 40th Anniversary celebration, we're publishing a special series of blogs throughout 2020. Each month you'll see insights from a different member of the PDi team. Our goal is to bring you more fully into the PDi family. Our seventh blog in this series comes to you from Matthew Lindemann, Regional Sales Manager, South.
PDi has been improving the patient experience in healthcare for 40 years with a personal approach, which is also incredibly special to those of us who work here. I've been working at PDi for four years, and I have consistently found that my colleagues and I truly are a team here to serve others.
Taking a Team Approach
My approach as a sales representative is always to use a team angle to provide the best resources and opportunities to help our customers. This typically involves working with the rest of our sales team, as well as our marketing department to answer any questions that may arise. At PDi, we also bring the benefit of the PDi ProServices team to create a complete quote for patient tv systems, from hardware to installation, and everything in between. We strive to be a one-stop-shop for our customers, and our team works hard every day to make that happen.
Check out the medTV catalog for all PDi solutions:
We Like to Have Fun
Work doesn't always have to feel like work, and that's certainly the case here at PDi. It feels like family at PDi, and sometimes we may even wrestle with each other!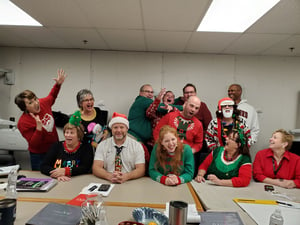 I can remember plenty of trips where my coworkers, now friends, and I have been able to relax and get to know one another better in our downtime. Often these memories are associated with trade shows, like VSHE, and sometimes involve big moments - like celebrating my 50th birthday!
There was one trip to Nashville where we had many team members in town. We rented a house near Belmont and had a lot of low-key fun! You won't find these kinds of memories at just any company, that's for sure.
Keep Building Relationship
I'm sure it's clear that our team is a big part of why I love PDi, but they aren't the only people who make working here exciting. In my role, I spend plenty of time working with our customers and distributors. Over the years, I've come to enjoy forging friendships and building connections with our partners. And of course, any time we can win a sale over consumer giants LG or Samsung is a great day!
The VIP Wins
Here's one final parting story for you: I was calling on Houston Methodist Hospital after the TAHFM annual trade show and meeting. I was making a sales call to the biomedical department to offer follow-up support for 43" PDi TVs and several older swing arm TVs.
After I arrived, the person I was meeting with told me that the 43" TVs are in the VIP suite and asked if I would like to see. Of course I say yes, so he takes me into the room where former President George Bush had recently stayed while in the hospital. That was really cool. The best part is, PDi won the project, and the VIP suite at Houston Methodist Hospital is all PDi.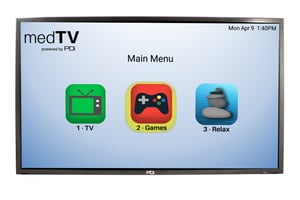 Many end users like this value the quality and support of PDi. I am proud to work for such an excellent, customer-focused and dedicated company. It truly is one big family, and everyone counts. Our customer and partner's thoughts and ideas matter, and we put our heart into everything we do.
If I can help you better understand the value we bring, give me a shout out today: Matthew Lindemann, mlindemann@pdiarm.com or call 980.240.2231.