medTV Smart 55
55" A-Series Enhanced Entertainment Smart Hospital TV. GENiO™ Capable with Full-HD, Integrated Pro:Idiom® and RF-HEMiS™ Headend TV Server Compatible
Model: PDI-A55B
Requires PD108-420 Programming Remote, sold separately
Description
Enhanced Entertainment, Made Simple.
Let patients switch it up by offering more entertainment without any extra connections. The PDi A-Series is more than a simple TV display; it has games and relaxation apps built in. Patients can easily navigate the icon-based menu of entertainment using a numeric or navigational pillow speaker.
Easy to Customize with GENiO Remote Managment.
GENiO is an optional cloud-based software tool that allows you to customize your patient engagement experience, affordably and easily. Engage patients with education videos, daily menus, video calls, send messages, patient surveys, and more.
Designed For Viewing Brilliance.
This PDi 55 inch A-Series HDTV is equipped with Pro:Idiom so patients can access more channels,

with Full-HD 1920 x 1080 display resolution for

stunning HD clarity.
Designed to Meet Healthcare Needs
Create a comfortable patient atmosphere with universal pillow speaker recognition, volume limiters, multi-bed codes, closed captioning and more.
PDi televisions
are manufactured
with hospital-grade features and easily controlled via the headend RF-HEMiS TV server.
These UL-Listed healthcare-grade TVs have lasting value and provide added safety in your facility
.
Specifications & Features
Specifications
Model Number: PDI-A55B
Dimensions (W x H x D): 49.2" x 28.5" x 2.1" (125 x 72.5 x 5.5 cm)
Diagonal screen size is 55" (139.7cm)
Shipping Weight: 50 lbs
Backlight: LED
Display
Full-HD 1920 x 1080 Native Display Resolution
LED Backlight
Lamp life up to 30,000 Hours
TV Features
Pro:Idiom Ⓡ / MPEG4
FM Tuner 88.1-107.9 MHz
USB Clone for Programmable TV settings
16:9, 14:9, 4:3, Panoramic 16:9 Aspect Ratio
TV Source Guide Menu
Metal/Black Gloss Cabinet

Audio & Video
Speakers: 2 x 5W RMS
Compatible with programming remote PD108-420 and patient TV remote PD108-421.
Mount
Standard VESA mount is 400x400, 8mm.
Use Flat Wall Mount PD168-070
Use Articulating Mount PD168-107
Use Table Stand PD168-108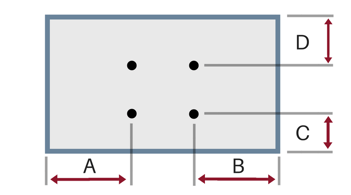 A: 16.7 inches | 425.1 Millimeters
B: 16.7 inches | 425.1 Millimeters
C: 6.4 inches | 162.4 Millimeters
D: 6.4 inches | 161.5 Millimeters
Features
Built for healthcare standards
Easy navigation to games and relaxation (included)
UL Listed for healthcare use in USA and Canada
Universal Pillow Speaker
USB Clone Programmable or compatible with RF-HEMiS
2 HDMI Inputs
MPEG4/Pro:Idiom decoding for expanded lineup of HD channels
Multi-lingual English/French/Spanish Menu and OSD
3-year standard warranty included or upgrade to
5-year Extended Warranty
Works with Epic MyChart Bedside TV