How many times have you created a handout and printed the final copies, just to get a call with more edits? That is incredibly common in many fields of work, especially in healthcare where things constantly change. In today's fast paced, information filled world, some communication moves too fast for print.
As we are offered more resources digitally and many people move towards decluttered, minimalist lifestyles, paper can often feel like a burden. Plus, since the COVID-19 pandemic, many people see paper in a much different way - more like a potential germ vehicle passing through multiple hands.
Luckily, utilizing smart technology, such as digital displays, in place of paper is beneficial in many scenarios and has become more commonplace, i.e. restaurant menus, building location signage or digital business cards. Similar digital displays allow healthcare facilities personnel to share important messages to patients, visitors and even staff.
Digital Displays for Patients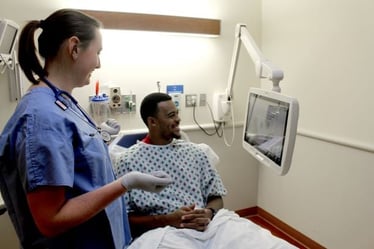 Patients need effective communication with their providers from the beginning to the end of their healthcare experience. The right technology resources, like digital displays, can accompany additional communication resources to follow patients along this journey, helping them to feel confident and calm.
For example, single specialty outpatient centers have many patients to inform and educate before and after surgery. These centers could implement a mix of large-screen healthcare TVs with their personal patient TVs to create consistent, continuous information and education flows for patients and their caregivers.
The communication with patients and caregivers may start when they wait in the lobby for a pre-surgery appointment. A large-screen healthcare-grade TV used as a digital display in the lobby could show the center's surgeon biography, care philosophy, procedures, history, awards and more. This builds trust between patients and the facility's care.
Once patients go back to their private exam rooms, the facility could use personal touchscreen patient displays to show their own educational videos that experts have approved and vetted to reiterate what the doctor has shared, share pre- or post-op information and more. This improves the quality of the patient's understanding, better engages them in their care plans, and helps with staff workflows.
3 Ways Patients Benefit from Healthcare TVs
---
Digital Displays for Visitors
Healthcare facility visitors are also served by digital displays, whether these visitors are coming to see patients in a hospital or driving someone home from outpatient surgery.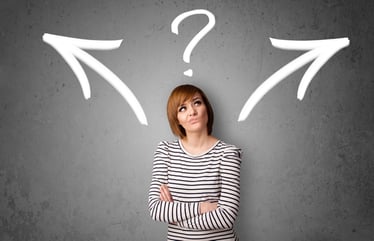 Wayfinding is a great use for these displays, especially in large, confusing spaces like hospitals. Digital displays can be helpful for people to find where they need to go to see their loved one, find a cafeteria and more.
This also makes it easy for facility staff to change out the signs when a location moves. If two offices are trading spaces but are on different floors, staff can remotely use cloud-based software like GENiO to easily update signage. This saves staff the cost and time it takes to change printed maps or traditional printed wall signage.
Facilities staff can also use the displays to push out timely information to visitors and patients. For example, staff may test the fire alarms regularly at healthcare facilities. Prior to the fire alarm testing, staff could use digital signage messages in addition to their other communication systems, reminding the visitors of the testing.
Many facilities provide visitors access to a public cafeteria, gift shop and other amenities. Digital displays can provide amenity location, hours of operation, and details. If hours change for any reason, employees can once again, easily change the hours from a computer.
Digital signage is also a great option for facilities to use as menu boards in their cafeterias, coffee shops, gift shops and more. The displays allow for ease of use when it comes to updating menu items, pricing and additional information. No more handmade sign that says an item is "unavailable" until a board is reprinted or the item comes back in stock.
---
Digital Displays for Staff
The right technology can also help facilities save time, improve workflows, and deliver consistent patient education. When healthcare facilities use digital communication through TV displays for their staff, they are able to easily be both the recipient of important information made for them and be the provider of information to their patients and visitors.
Healthcare workers are very busy and often don't have easy access to their computers or email all throughout their shift. However, by using large screen smart hospital TVs to display third party software for digital signage in the private spaces that staff frequent, leadership can communicate important messages to employees both easily and quickly throughout the day.
-"Staff meeting on Tuesday at 6:45 am."
-"Retirement party to celebrate Nurse Jim next Monday at 5:00 pm."
-"Be sure to fill out the changes to your medical benefits before Friday."
-"CPR training needs to be renewed by the end of October."
These are all examples of important reminder messages that can easily be shared through digital displays and can be seen in the meantime of staff checking their email.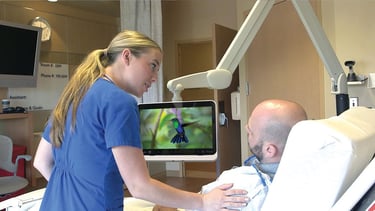 In small clinics and healthcare facilities, it is often the provider healthcare staff that would be pushing out information via digital signage to patients and visitors. By using digital signage, staff can easily and quickly provide information and improve workflows while still providing quality care and consistent communication.
For example, senior living facility staff regularly keep their residents up to date on upcoming events. If one of those events changes times or is cancelled for the week, the staff can easily make a change to all of their digital displays right from their computer instead of having to change calendars on bulletin boards.
---
The possibilities are endless when it comes to providing digital communication to the public and to staff. That may seem a little overwhelming. However, using the right technology can help facilities implement consistent messaging through devices that are built to be future-proof, consistent and easy to use.
If you need help choosing patient entertainment and digital display monitors for your patients, visitors and staff to deliver a consistent brand and messaging experience, call PDi today! We bring 40 years of experience focused exclusively on technology to improve patient satisfaction.