Why Choose PDi versus Consumer TVs?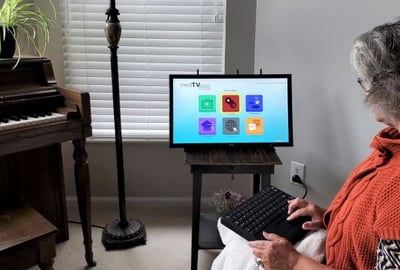 Resident safety is one of the biggest priorities for senior living centers across the country, and this is only heightened during the COVID-19 pandemic. Even without the coronavirus outbreak, we know it can sometimes be hard to entertain residents and for loved ones to visit in person. That's why we offer healthcare-grade medTV Smart TVs with expanded entertainment (No Internet Required) and medical-grade devices on carts with Teleray technology, that can be thoroughly and easily disinfected. Allow your residents to stay healthy and happy, and safely connect them via video chat with their doctors, families and friends.
Senior living centers, nursing homes and assisted living centers have the same goal: to provide quality care to your residents. Care often takes on two meanings: to provide healthcare to meet the needs of residents, and to do so in a truly caring and compassionate, human way. By prioritizing care above everything else, senior living centers can reassure residents and their families that they are truly in the right place. PDi technology can help!
Prioritizing patient safety is important to all of us at PDi, as it is to senior living, assisted living centers and all in the healthcare industry, For PDi, it doesn't just mean using antimicrobial coatings on our devices and creating easy-to-clean products. Want to learn more?