Do your TV technology choices align with your patient populations today, and keep up with the future demands? Traditional antenna TV, satellite or cable, streaming video services, video on demand and other options exist for medical facilities, just like at home. Digital broadcasting options are endless these days! However, do you think about how TV investments in your hospital or clinic match with how people consume TV at home? Entertainment is a great way to keep patients distracted and satisfied while in the hospital or sitting for a long appointment, such as dialysis or infusion.
No matter a patient's age, they deserve the comforts of home during their healthcare encounters. Just as healthcare serves all ages, so does entertainment. That doesn't mean we should assume that all generations view TV the same way or don't want access to expanded entertainment options. That's why US-based PDi manufactures a variety of healthcare TV options, from senior TV to smart TVs, that fit what your patients desire in entertainment.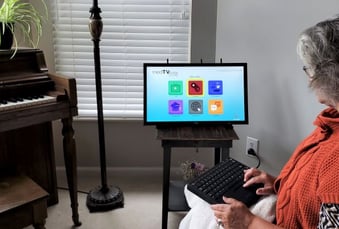 Simple Senior TV
Watching TV is more popular with older adults. According to Statista, in the first quarter of 2019, TV reached 90% of all United States adults, 18 years old and up. However, only 81% of millennials watched TV at least once a week, whereas 92% of millennials older peers watched TV at least once a week and 94% of adults aged 65 or over watched TV at least once a week (Stoll, 2021).
Depending on your healthcare facility and your patients, standard TV may be the only option you want to provide. This could be because your patient populations don't want or need access to more features or because your facility does not want to connect your TVs to the internet. For example, a facility that serves seniors may only offer cable TV as that is what their patients desire.
For the Senior TV options, PDi offers arm mounted Healthcare-grade TVs at the bedside or chairside. These personal displays are available in 16" and 19" display sizes which are equal to a 90" wall TV experience. They offer easy viewing and audio.
Smart Patient TVs and Touchscreens
Despite the large number of adults 65 and older that desire antenna or cable TV, it would be a mistake to think that the future of patient TV does not also include streaming content among all ages. While cable and network TV are still king, streaming content cannot be ignored. In fact, according to Nielsen, people in the United States streamed about 15 million years' worth of content in 2021 (Nielsen, 2022). Also, according to a 2021 study by Nielsen, 26% of all time spent on television homes was time spent on streaming platforms.
For facilities that serve a variety of ages, offering Smart customizable TVs, with or without internet enabled, and streaming capabilities will satisfy many patients.
PDi offers large screen, Smart patient TVs and Smart Touchscreen TV options that connect to the internet and streaming services. Patients can enjoy traditional cable, streaming services, links to website content and much more! Enhanced entertainment apps include built-in relaxation and games without Internet.
Interactive Patient Engagement TVs
Whether you choose PDi's smart touchscreen medTABs or A-Series large wall screen TVs, connecting your TVs to the internet and choosing PDi's GENiOTM cloud portal will enhance your patient engagement. GENiO is an optional interactive patient platform with multiple entertainment options including traditional TV, streaming TV, IPTV, video on demand websites, social media links, news links and more.
GENiO allows the facility to customize a PDi TV to share what they find most important. This is great for facilities that serve a variety of ages. For example, a facility could link to the internet for video streaming and include traditional TV, so all ages can enjoy the programming that interests them most. The TVs can even be customized from department to department. So, if the pediatrics department wants to offer games, but the adult rehab department wants to offer health education content, the facility can change up what is shown. See GENiO in action:
_______
Want to find entertainment options that make sense for your patient age demographic? PDi professionals want to show you our solutions!
References
Nielsen. (2021, Jun 17). The Gauge Shows Streaming is Taking a Seat at the Table. https://www.nielsen.com/us/en/insights/article/2021/the-gauge-shows-streaming-takes-a-seat-at-the-table/
Nielsen. (2022, Jan 21). Streaming grew its audience in 2021; Drama, reality and kids' programming led the content wars. https://www.nielsen.com/us/en/insights/article/2022/streaming-grew-its-audience-in-2021-drama-reality-and-kids-programming-lead-the-content-wars/
Stoll, J. (13 Jan, 2021). TV reach in the U.S. Q1, by age. Statista. https://www.nielsen.com/us/en/press-releases/2022/nielsen-media-impact-adds-streaming-data-for-more-holistic-cross-platform-media-planning/