Do you want your patients to have the best experience possible at your unique healthcare facility or hospital space?
Choose interactive patient TV technology solutions that are customizable to your needs and grow with you as your facility's needs change for patient education and engagement.
Provide access to your quality patient education resources,
offer multiple forms of entertainment,
and engage patients with technology that is comfortable and adapts to your space.
Patient Education
You know what your patients need as far as education and the resources you feel are appropriate to share. However, delivering that education is not always incredibly easy. While patients are in their rooms for a hospital stay or sitting in their chairs during long outpatient appointments, provide technology resources to them that feature your educational resources.
Many interactive patient systems are built to include access to educational resources by linking to websites that a healthcare facility finds most valuable or even links to the facility's resources. Many can also link to video education, which is incredibly engaging, considering there are projected to be 3.1 billion worldwide video viewers by the year 2023 (Ceci, L., 2021).
PDi touch screen TVs with optional cloud-based, remote content management system, GENiO™, allows you to link to your educational content to show the videos you want patients to view or comes out-of-the-box linked to the CDC's (Centers for Disease Control and Prevention) website for general health education. GENiO is available on medTAB personal arm mounted touchscreen tablets and large screen medTV Smart Hospital TVs.
Interactive Patient TVs Offer More Entertainment
We all realize staying overnight in the hospital or enduring long treatment appointments can be very boring or even increase anxiety. Providing patients with great entertainment technology solutions brings positive distractions that reduce your patient's stress. Healthcare providers today deliver more from their hospital televisions than just simple TV broadcasting channels to keep their patients engaged.
Interactive Smart TVs for healthcare offer more than just the bare minimum TV. Many come with pre-installed games, internet access, and more. For example, PDi's large screen, Smart TVs come out-of-the-box with pillow-speaker controlled TV, preloaded games, and relaxing video content for the stressful moments, all with no internet required. By allowing internet access or adding GENiO to PDi TVs, staff can engage patients with education videos, daily menus, video calls, send messages and patient surveys, and more.
Patient TV Technology Fits Different Healthcare Spaces
Another way to elevate your patient experience is by providing patient TV technology that is best suited for your patient space. Technology solutions that are easy to use and comfortable to access will be more engaging for your patients.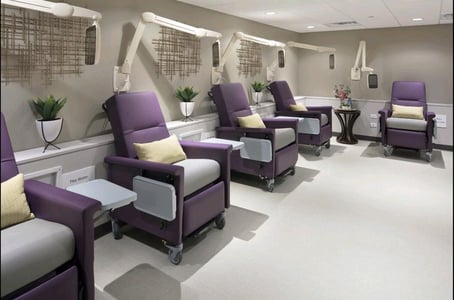 There are many ways to efficiently mount a PDi personal patient TV to keep them within close reach by your patients. For example, patients sitting in a chair receiving treatment for long periods of time may need TVs that are attached to their chairs. This allows patients to sit near one another, like at an infusion clinic, but still have their own TV or tablet. Patients that are restricted to their beds, even those required to lie flat, have a number of options, such as ceiling mounts, floor mounts, headwall mounts and more that keep the TV close to them. Of course, family and visitors can easily swing the arm-mounted PDi TV to the visitor couch to enjoy while patients rest in the hospital bed.
In some cases, portable technology resources may be the best option. In this case, rolling carts give staff the flexibility of bringing entertainment or telehealth resources to their patients with easy storage when the devices are not needed. PDi offers telehealth carts and family video visits, medTV carts great for overflow areas, and even gaming carts for a variety of patient needs.

Technology in your hospital or healthcare space should be elevating your patient experience, not holding it back. Trust PDi to help overcome today's audio visual challenges and provide an engaging experience for your patients.
If you need healthcare grade entertainment solutions, PDi professionals are ready to help.
---
Ceci, L. (12, July 2021). Online video usage in the United States – Statistics & Facts. Statista. https://www.statista.com/topics/1137/online-video/