Patients deserve excellent care in many ways during their healthcare journey. That care comes through many things like individuals, medicine, and even patient-facing technology. In fact, patient television technology designed for patient use helps satisfy patients and engage them directly in their care
The patient experience of care is far-reaching and includes everything from phone calls with healthcare staff to the clinical care they receive to how they spend their time during treatment. Excellence is the standard. There are three key ways that patients in all healthcare spaces should have technology to support their care experience: entertainment, engagement and education.
1. Patient TVs Distract and Entertain Clinic Patients During Long Hours of Treatment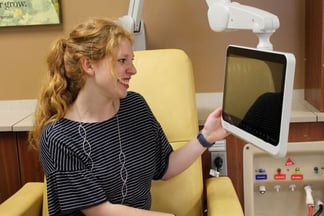 Patients endure long hours of treatment at infusion or dialysis clinics. A great way to increase their satisfaction is to distract and entertain patients with a personal arm-mounted patient TV or healthcare-grade tablet. Now, they may not mind coming back for their next treatment!
Versus the cumbersome challenge of holding a book or their own smartphone for hours, while one arm is immobilized with an IV, these securely mounted devices offer easy touch keypads and great comfort. When they want to shift positions for their comfort, patients can simply move their arm-mounted TV with them. No need to feel uncomfortable just to watch TV!
2. Smart Patient TVs Increase Patient Engagement During a Hospital Stay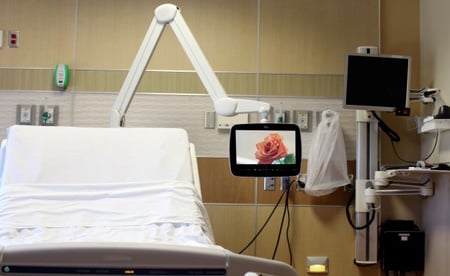 Patients in different healthcare settings have different needs. Patients in a semi-private hospital room are interested in having access to the entertainment they love - not their roommate's favorite show. Personal patient televisions at the bedside reduce noise and satisfy patients with TV programming they want to watch.
Take their entertainment a step farther. Choose an arm-mounted healthcare tablet equipped with Zoom. Then, patients enjoy internet enabled apps, and can video call with their loved ones and never miss an important moment of life outside the hospital.
With SmartTV apps like Epic MyChart Bedside TV, patients can also see their lab results, treatment plans and other important information. Keep patients engaged and informed with high-quality patient technology by PDi, trusted for 40 years.
---
---
3. Consistency Matters When Educating Surgery Patients. Choose Smart Patient TVs.
When patients and caregivers come to a surgery center, they are both likely feeling a lot of unease and uncertainty. Easily address that with Smart wall TVs both in your lobby area and in patient rooms.
Caregivers can watch general pre-op and post-op informational videos on lobby sets, such as

24" thru 55" PDi SmartTVs

.
Specific patient education content can be watched by patients privately in the consultation space or patient room.

medTAB touchscreen devices by PDi

offer a convenient and affordable way to deliver the patient education you want.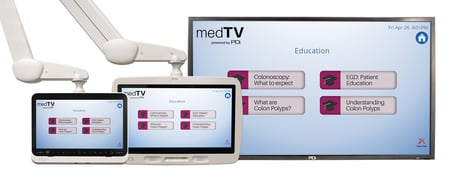 Consistent education will help to ensure your patients and their caretakers or family members feel equipped with the knowledge they need to continue post-op care. Following a consistent approach to educating your patients also improves your workflow staff efficiencies. Now staff doesn't need to repeat the same information. This also helps patients think of more questions, and can maximize the time the provider spends in the room.
Ohio-based PDi sets the standard of excellence in delivering a cost-effective solution for ASCs.
---
Patients benefit from having technology that's designed specifically for them. No matter what type of patients you see, there's a proven TV solution that perfectly meets their needs.
If you haven't experienced the value PDi brings to patients, give us a call.
Trusted for 40 years, PDi brings a long history of understanding and solving for patient entertainment, patient engagement, and patient education technology in a variety of healthcare spaces. Only US-based PDi builds the complete, hassle-free solutions, and offers guaranteed installation services and personal customer service and support. We can help you too, all PDi products are UL-Listed, healthcare-grade and are engineered for the patients who will enjoy using them.