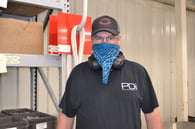 As part of our 40th Anniversary celebration, we're publishing a special series of blogs throughout 2020. Each month you'll see insights from a different member of the PDi team. Our goal is to bring you more fully into the PDi family. Our ninth blog in this series comes to you from Colin Young, CNC Lathe Precision Machinist/Programmer.
There are plenty of things you probably don't know about PDi, including that we have our own machine shop. I want to tell you a little about my story. I was hired at Precision Industries on January 23, 1978. (Yes, I've been here longer than PDi!) I remember the date specifically because it was the day of the blizzard. I had a Z28 Chevrolet Camaro at that time, and I had to dig it out of the snow.
After I finished digging it out I went back inside the house to warm up. While I was warming up, a snow plow truck came by and buried my car back in the snow again! I had to call into the office and let them know I wouldn't make it into work. What a way to start a new position.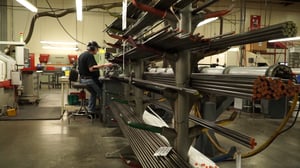 For a while, I ran the turret press in the machine shop. In fact, I programmed the first turret press we had here. We had to figure out how to combine the CNC lathes, mills and drill presses to run one particular part. Even though I didn't have machining experience, this began the journey to build creative solutions.
Interesting Jobs
We've had plenty of unique experiences over the years. One of my favorites was when we redesigned the support arm for PDi patient televisions. The original design had a lot of machined parts and castings which made it difficult to produce, and expensive. We tore it apart and made a new design using stamping and forming. This creative solution, for the precursor of the PDi 400 Series Arms, was more easy to produce. Forty years later, our latest arm design is the 68" reach 1400 Series Arm with removable wire shields to easily change cables while the arm remains in use.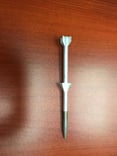 Over the years, we've also made some interesting parts. One time we made a military mortar shell prototype for wind tunnel tests. We also made parts for George Montgomery's speed racing shop.
We are proud to build precision parts! One of the hardest parts I can remember making was for a grandfather clock. This piece had to weigh exactly the same amount on both sides of the armature so it would be balanced inside the clock.
Work-Life Balance
The best part of my job is working with my hands and creating parts that solve customer problems. I love that what I do brings new challenges. It keeps things interesting, so I'm not doing the same thing over and over.
Some of my favorite memories over the years with PDi are when I was coaching softball for 20 plus years. We got to be a pretty good team on the field. We even won a city championship!
It's true when my colleagues have said PDi is a great place to work that feels like family. Some of my friends are PDi employees - past and present. Happy Anniversary, PDi – here's to the next 40 years!