Healthcare priorities have certainly shifted during the COVID-19 pandemic. Luckily, the right technology can help you through these challenging times.
When choosing your COVID care communications technology, work with a partner who's ready to support you. PDi is proud to partner with a network of US distributors across the country and Canada to ensure that you have a quick and easy experience.
As a US-based manufacturer, we can offer quick delivery times on new products, refurbished hospital TVs and service parts. Here are five digital technologies you can quickly implement to protect patients and staff while still creating a great patient experience.
1. TV Carts for Overflow Areas and Gaming Systems
While patient safety is of the utmost importance right now, patient entertainment is still a crucial part of healthcare. Patients can easily become anxious while in the hospital. As healthcare facilities are filling up quickly, having mobile TV options for overflow areas can make sure all patients have access to entertainment. Gaming carts are an excellent solution, too, as some games can even decrease patient anxiety.

2. Telehealth Carts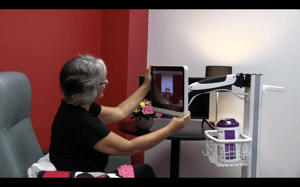 There are times that rural patients need to see a specialist for care not available at the local level or senior living residents need to check in with their healthcare providers, safely. A telehealth cart is the perfect solution, so patients can receive the care they need while providers stay safe. This touchscreen system by PDi and Nautilus Medical can easily be disinfected and includes an integrated camera/mic so there is nothing to fuss with! This version has a small footprint that makes for easy storage too!
3. Touchscreen Tablets with Camera/Microphone for Video Calls
Are you implementing a safe tablet solution built for infection control? Social distancing is difficult for many of us, especially for those who are in the hospital or long-term care facilities without the ability to have visitors. Easy to operate touchscreen tablets built by Ohio-based PDi for stringent healthcare disinfection offer a safe, easy way for patients or senior living residents to connect with their loved ones.
4. Temperature Scanners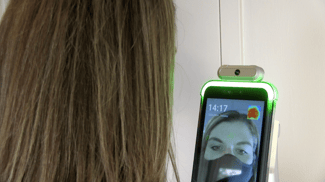 One of the key symptoms of COVID-19 is a fever. Many facilities, especially healthcare facilities, have required everyone to have their temperature checked before they enter the building.
Employing healthcare staff to stand at the door to take temperatures is inefficient and places that staff member at risk.
An automatic temperature scanner lets technology do the checking for you, allowing your staff to focus on more important tasks. This version offers facial recognition software and ties into building security systems. Plus, these floor stands are built in the USA, so they're ready for quick delivery times to your facility.
5. Smart Hospital TVs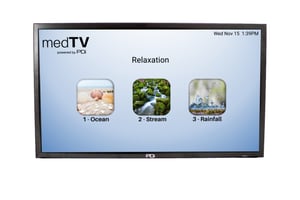 Nature sounds and scenes, as well as other relaxation content can go a long way in decreasing stress for patients. Choose a Smart hospital TV by PDi that comes with relaxation content built-in. That means no need for an additional subscription. With the medTV® Smart series, your patients will also have access to pre-loaded games that add an extra entertainment option to satisfy patients of all ages. Check out refurbished models and save now!

Choose PDi for your one-stop-shop. Trust PDi to provide everything you need for safe, fully integrated patient entertainment systems. We are proud to innovate and create many different arm-mounted TV systems and TV cart options to meet the unique needs of hospitals and healthcare facilities. If a wall TV is what you need, we also manufacture and sell the TV wall brackets for a complete package. Learn more about our COVID care solutions today, and let us know how we can help you.