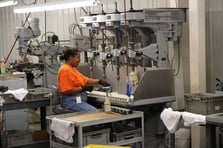 As part of our 40th Anniversary celebration, we're publishing a special series of blogs throughout 2020. Each month you'll see insights from a different member of the PDi team. Our goal is to bring you more fully into the PDi family. Our fifth blog in this series comes to you from Vanessa Givens, Drill Press Operator.
It's no secret that PDi is a great place to work, and I know my colleagues would tell you the same thing. From the fun family culture to creating products that truly make a difference in patients' lives, we enjoy coming into work every morning to support our customers and the patients who will be the end users.
I've been here at PDi for over 20 years, and I'm excited to be celebrating the company's 40th anniversary this year. The best part about working at PDi is the overall work experience. The people here really are a family, and our management team is very approachable. I know that here I won't be lost in a crowd. Everyone knows each other, and we work together well.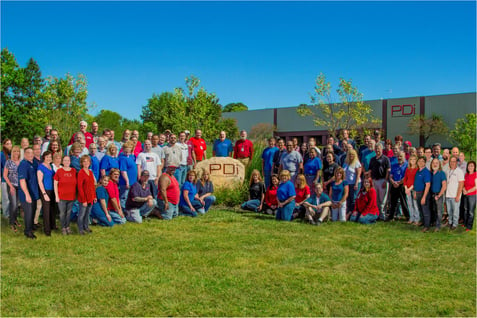 Five Words I'd Use to Describe PDi…
1. Perseverance
PDi is a determined company that will do whatever it can and whatever it needs to do to support its customers, employees and the end users of our products. Throughout our 40 year history, there have been plenty of challenges, but we have worked hard to continuously improve, and to come out even stronger on the other side. We are here to stay to serve your patient entertainment needs.
2. Friendly
We have one of the friendliest work environments! The PDi team is always ready to share stories and build friendships with one another. When you add in our fun activities, like our wellness challenges, field days and holiday celebrations, it becomes clear that this is a great place to work. We love to have fun and connect with each other!
3. Purposeful
The employees at PDi know that we have a purpose to do good work. In fact, a core value is "do what is right". Each of our jobs is important in getting our products from idea to production and into the hands of customers and patients who sincerely benefit from them. Having a purposeful job is so important, and I appreciate that PDi gives me that opportunity every day.
4. Relevant
I started to touch on this a moment ago, but it's important enough to get its own word. Our products make a positive impact in the healthcare industry. They help hospitals, clinics and other healthcare settings improve the patient experience and give their patients access to entertainment and information. Whether they choose our enhanced, smart wall TVs or the personal option of the medTV or medTAB arm-mounted solution, patients who interact with PDi products always have access to distraction and entertainment.
5. Helpful
PDi is always ready to go the distance to help solve our customers' problems and find a solution that is right for them. As the manufacturer, we can easily create custom solutions to meet specific needs. In fact, some of our popular products, like the Space Saver Mount and the mobile cart solutions, came about because of customer needs. We are problem-solvers who are eager to support our customers as fully as possible.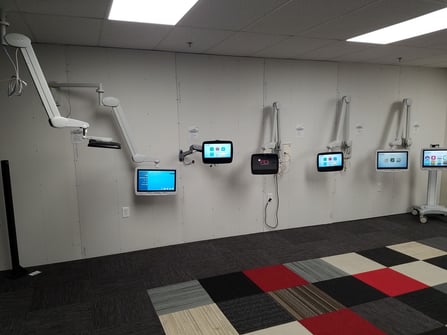 I'm sure you'll agree with me now that PDi is a company that truly makes an impact in this world and the healthcare industry to improve the lives of patients. Above all else, we're a company that cares. We care about our employees, our customers, our partners and the patients who use our products. We're committed to innovating to create the best experience possible for each of these groups. If you're in need of a TV for patient entertainment, we have you covered. Learn more about the collection of PDi and medTV solutions today!