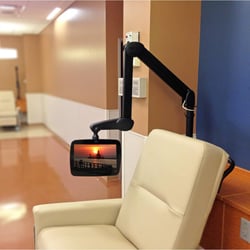 PDi arms have served facilities and their patients for nearly 40 years. It's one of the reasons PDi is known as an industry leader in the healthcare space for personal patient televisions and infotainment. We build our arms to last, ensuring that PDi technology is a good investment for your healthcare facility.
When we engineer and manufacture new arm-mounted patient televisions like medTV16, we make sure our new devices are backwards compatible with many existing arms and mounts.
We are proud to create complete solutions that protect our customers' existing investments.
You might be wondering about maintaining these arms, though. If we keep designing new televisions to work with your currently installed arms, there must be some regular maintenance that needs to be done, right?
Actually, not really.
You read that right: there is not much you need to do to maintain PDi arms in typical use cases, especially if you have our newest 1400 Series arms. In fact, there are only a few components that might need maintenance: springs or cables.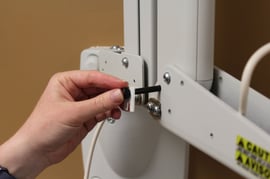 Before we go any farther, we want to stress that any repairs you choose to do should always be completed by trained, knowledgeable technicians.
Always remember to install the SAFETY PIN before removing the TV (load) from an arm to avoid injury. Never transport the arm without the SAFETY PIN in place.
Arm Maintenance:
400 & 500 Series Arms
The 400 Series and 500 Series arms have a spring-based lift design. Most PDi personal televisions weigh between 7 lbs and 15 lbs. The springs on a 400 Series arm are adjustable to support devices weighing up to 22 lbs, creating a max 170 FT-LB torque on the base pin. The 500 Series supports devices weighing between 4 lbs and 19 lbs, creating a max 150 FT-LB torque on the base pin.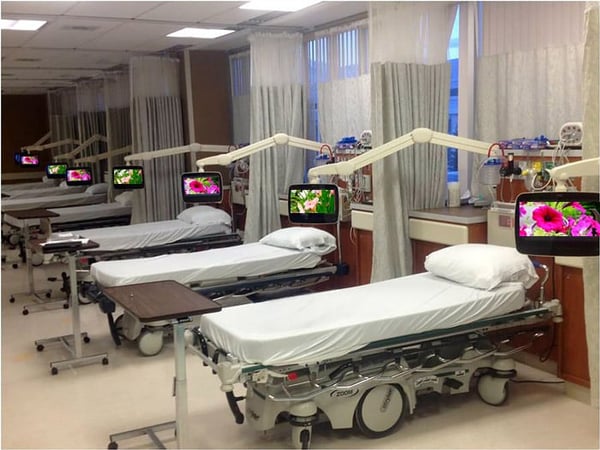 Patients, family, visitors and healthcare providers can easily move the arm-mounted patient television to a comfortable viewing position. If an arm is sagging or no longer holding position, adjust the tension in the springs. There are four (4) springs in most 400 Series arms and two (2) springs that may be adjusted in the 500 Series arm. The screws to adjust tension are found in the nose, elbow and base of the arm. Adjustment screws all have 7/16" hex heads. The screw will tighten the springs when turned clockwise. It is recommended that you DO NOT use a drill or power driver. Before adjusting, loosen the brake screws one turn. Remember to re-tighten the brake screw (see Document PD196-261R1). You should also inspect and tighten the brakes and mounting screws at this time.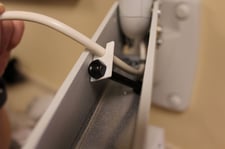 Cable inspection points are similar on all arms. Check for cable wear at the elbow, base and nose of the arm. If you need to replace cables in a 400 or 500 Series arm, you'll need to remove the television and arm from the wall mount. Always remember to install the SAFETY PIN first. Repairs should always be completed by qualified technicians.
(HINT: Store the pin inside the nose of the arm as shown here!)

Arm Maintenance: 1000 Series Arms
These arms are made with a nitrogen gas cylinder-based lift design, which means they are pre-tuned specifically to support a particular weight television. There is nothing to adjust in the field! The 1000 Series arms can be tuned to support 13, 17, 21 and 24 lbs. For some arm models, the pivot points can be moved to alter the weight capacity. Please contact PDi ProServices for details.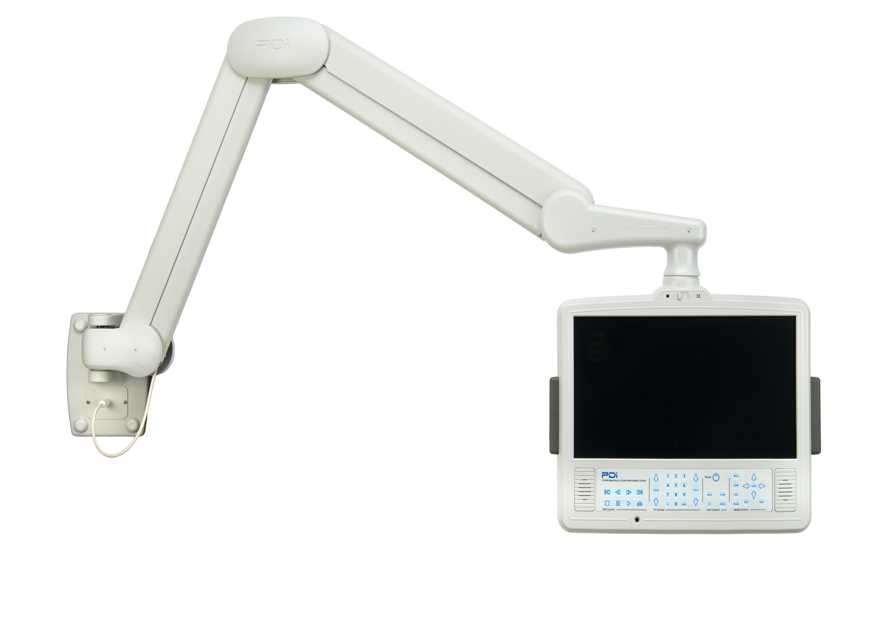 Very little maintenance should be required for your arm to give years of trouble-free service. All screws in the 1000 Series arm are securely tightened with Loctite at the factory and do not require specific checks with a torque wrench.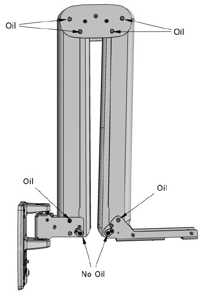 At least once a year a drop of light machine oil should be put on each pivot point in the nose, elbow and base. DO NOT PUT OIL ON THE FRICTION DAMPER PADS! Cable replacement is easy to do while the arm is installed in the field by using the removable wire shields along the underside of the 1000 Series arms to access the cables.
Occasionally check the base pin for any evidence of bending or distortion due to a patient using the arm as leverage for assistance in getting in or out of bed or any other misuse. Be certain that the wall the arm is mounted to is vertical. If the arm is not mounted with the base pin absolutely vertical, it will have a tendency to drift and will not properly counter balance the television.
Arm Maintenance:
1400 Series Arms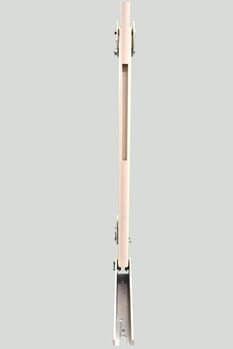 Easiest of all to maintain are the newest arms: the 1400 Series. Just like the 1000 Series, these arms have nitrogen cylinders to balance the television and the lift to support 4, 7, 10 and 13 lb TV sets, meaning there is practically no field maintenance required for tension purposes.
It's unlikely that you would need to change cables in a 1400 Series arm because of wear and tear. We re-engineered the elbow joint so that cables are less likely to rub and wear down during use. If you want to replace any cables, you don't even have to take the arm off the wall. (We told you it was easy!) Instead, we have designed removable shields that easily slide off along the topside of the arm sections to provide easy access to the cables. For more information, watch our video showcasing how easy it is to change cables in our 1400 Series arm.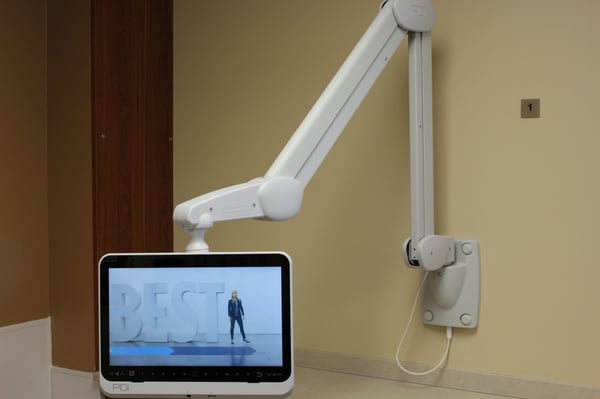 ---
Do you think your PDi arms might need some maintenance? If so, or if you have any more questions, please reach out to our PDi ProServices team to connect with one of our expert technicians. We're here to help you every step of the way.