It doesn't take a lot to make a big difference in the patient experience.
While driving excellence in the patient experience may feel like an overwhelming topic, it doesn't have to be so. In fact, many times it's small things that make the biggest impact. From the personal attention staff can show patients before they even enter your facility through to prioritizing their needs, patient experience covers many specific topics. Let's explore five little ways you can make a big difference with the patient experience in your healthcare space.
1. Personal Attention
For many patients, the healthcare process can be overwhelming. It's easy for them to feel afraid, concerned, upset or any other range of emotions during their time as a patient. By taking just an extra moment out of your day to reassure patients and give them your complete attention, you can make them feel seen, heard and understood. This applies to a receptionist scheduling the patient on a phone call, a doctor delivering a diagnosis, a nurse explaining some basic patient education, or anyone else along the continuum of care who impacts the patient's experience.
2. Entertainment for the In-Between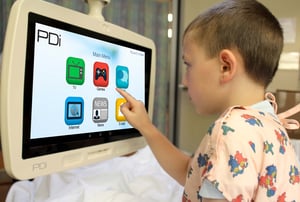 While personal attention is obviously at the forefront of the patient experience, it's not possible for every patient to receive undivided attention 24/7. Instead, show patients you care about their experience by setting them up with entertainment options to make them happy and to keep them busy during the in-between moments when caregivers are busy with other patients. Television is a basic expectation of patients. Consider something more advanced, like medTAB an all-in-one healthcare TV-tablet solution that also includes education, relaxation, games and Internet access out-of-the-box.
3. Education, Your Way and Theirs


Patient education is an important part of the patient experience. Sometimes patients need to hear the same information a few times before it really sinks in and makes sense to them. Most clinicians don't have the time to explain the same thing over and over again. Instead, offer consistent patient education with your own content. Having education available on a hospital grade tablet device safely puts the patient in the driver's seat and allows them to review the information until they feel comfortable, without feeling like they're holding up the nursing staff.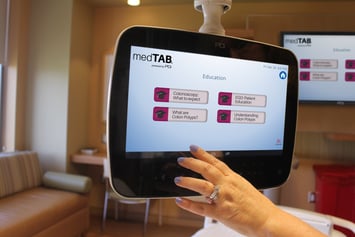 4. Prioritize Patient Safety

Patient safety is obviously a concern that extends far beyond the importance of the patient experience. It certainly has a role in this case, as well. From fall prevention to safe technology that reduces shock potential for patients having an IV break in the skin and everything in between, keeping patients safe is critically important. Learn more about the importance of safe patient TV technology here:
What's also important, though, is making sure patients feel safe, and that can sometimes be different from actually being safe. One of the easiest ways to make patients feel safe is by increasing your communication with them. The more you can tell them about what you're going to do, why you're doing it and how it will help, the more comfortable they'll feel. In most cases, over-communicating is far better than under-communicating.
5. Keep the Patient at the Center


Making care patient-centric is another key factor for improving their experiences. While it's true that you can't always be focused just on them, if they feel like you are, they'll have a better perception of the experience. One simple way to do this is by ensuring they know how to contact you, and check on them as often as possible. Not everyone feels comfortable or confident calling for a provider, so anticipating their needs is important. Part of this also goes back to providing excellent entertainment and education options so they can be in control of that part of their experience.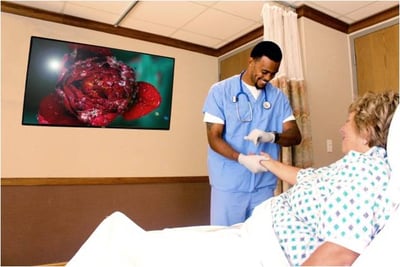 There are obviously much bigger things you can do to impact the patient experience, too. By first implementing these small changes, you can make a big difference quickly. Taking a moment to truly focus on the patient, making sure they have good entertainment options, providing education they can review at their own pace, communicating more with them and checking in as often as possible can all transform the patient experience.

No matter how you choose to improve the patient experience, your patients will be able to see a difference. For more guidance on how you can use technology to improve the patient experience, give PDi a call today. We've been focused only on healthcare for over 40 years and are ready to help you give your patients the best possible experience.