We're in a new year, and COVID-19 is still around, which means healthcare facilities, businesses and individuals are still working together to keep our communities safe. In hospitals, clinics and other healthcare facilities, cleaning, disinfecting and prioritizing patient safety have risen in importance this past year.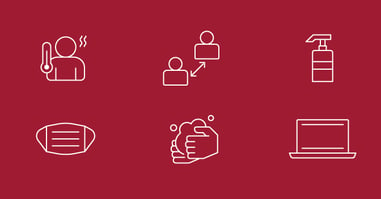 It's important that patients or visitors feel confident entering your facility. Here are three ways you can better protect them and offer safe care this year.
1. Prioritize Disinfection and Cleaning
CDC guidance for disinfecting patient rooms in between patients is always important, but it's become even more crucial during this time. Make sure you're following this checklist to ensure your staff isn't missing anything:
All surfaces of the bed, including the frame, headboard, handrails and footboard.

TV remote and nurse call system. (These should be cleaned more frequently, especially if you have visitors!)

Any sort of touchscreen technology, like the

PDi personal patient televisions

.

Tabletops, phones, chairs, handles and light switches, as well as other frequently-touched items.

Everything in the bathroom should be disinfected, and privacy curtains should be carefully removed and laundered often.
When purchasing items for the patient room, it's important for as many of them as possible to be designed for infection control. PDi designs for patient safety. Our personal patient TVs and tablets have antimicrobial coatings and are engineered to be sanitized with up to 5% chlorine bleach solution using these guidelines.
2. Implement Telehealth
Today, the use of technology for video visits is on the rise. In healthcare, there are some situations that demand live, in-person health assessments between a patient and a doctor. However, there are many times that a telehealth, virtual visit will work.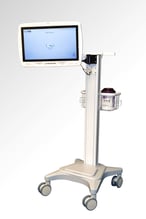 Telehealth can even be used within a hospital or healthcare facility so patients can meet with specialists who aren't physically present in the building. This can allow you to provide a better patient experience with shortened wait times while protecting patients and staff by keeping them physically separate.
If you're thinking of testing out telehealth, consider a solution like PDi's Telehealth Cart. With one system you can serve multiple patients by moving it to any room that needs the telehealth capabilities. This cart system comes with a one-year subscription to Teleray by Nautilus Medical, a HIPAA-compliant telehealth software, or patients can video chat with loved ones who can't visit.
3. Use an Automatic Temperature Scanner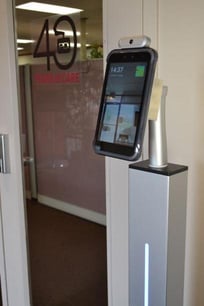 These have become incredibly popular since the onset of the COVID-19 pandemic. Because one of theprimary symptoms of the coronavirus is a fever, placing a temperature scanner at the entrance to your facility can help identify anyone who might be ill. Using an automatic scanner protects your staff, so they don't need to potentially expose themselves to someone who may have the virus.
Choose a thermal camera kiosk that clearly indicates whether a visitor may enter or not. For example, an acceptable temperature could result in a green light, while a red light and audible alarm are triggered for high temperatures. Kiosks like this often are faster than having a staff member manually take each person's temperature, which can improve social distancing among visitors waiting in line, and protect your staff.
Patient Safety Still Reigns
In all healthcare facilities, it's important to remember that patient safety is still the key, especially as providers, researchers and more work toward an end of the COVID-19 pandemic. Between temperature scanning, disinfecting rooms thoroughly and choosing telehealth when possible, you can take significant steps toward improving patient safety in your facility.