Healthcare staff are often overwhelmed and pulled in many different directions; all while being expected to provide quality care to their patients. If you could save staff time in their busy workday, wouldn't you? PDi wants to make healthcare employee's days a little easier by providing smart patient entertainment solutions that add value for patients and easily build efficiency into staff routines.
Read on and see how PDi can help healthcare nursing staff, patient educators, environmental services staff, and facility managers save steps and time, all while keeping patients engaged with bedside TV technology.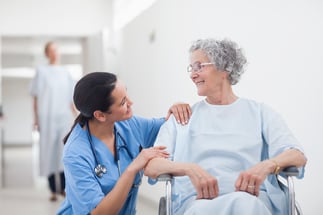 Headend solutions for quick TV management
PDi products are imagined with patients and staff in mind. We want simplicity to be a key feature for anyone who interacts with our TVs. Patients understand and enjoy PDi Smart TVs as soon as they use the large icon-based system that is easy to operate for TV, games, relaxation, news, social media, and more. Also, staff can use cloud-based solutions to easily create the interactive patient tv experience that matters most to them and their patients.
Another key benefit of PDi TVs is reduced labor with easy setup, TV cloning for ease of operation, and affordable upgrades for remote management. Expedite TV installation with RF-HEMi headend TV management or USB cloning. The RF-HEMiS eliminates labor-intensive TV touches and pushes updated TV channel line-ups to every TV without disrupting patients using centralized user-friendly software.
Automatically send data over coax, set volume limit controls to improve the patient noise experience, control channel access for specific hospital wings (groups of TVs), and send custom branded TV splash screens automatically. Our live customer support teams are happy to answer any questions too!
Efficient cleaning and patient safety matters
Working efficiently is important for busy healthcare staff such as environmental service providers. PDi products are also designed with these critical staff in mind. Patient safety matters and PDi TVs help busy staff members build efficiency in their routines with antimicrobial plastics and the ability to withstand daily rigorous sanitation with up to 5% bleach-based medical grade cleaning solutions. Cleaning doesn't have to be too time consuming if staff know what products to use and how to disinfect properly.
Save nurses steps
Communication is at the center of patient-provider engagement. However, communication can be difficult when healthcare employees are busy and overwhelmed. PDi wants to increase patient/healthcare staff communication with our GENiO interactive patient TV solution.
With GENiO, healthcare providers can easily send messages and survey requests in the moment directly to the patient's or resident's medTAB or large screen A-Series TVs by PDi. The message and survey features can help save staff time and assist with consistent communication and feedback between facility staff and patients.
Want to see these two features in action? Check out these two short videos.
| | |
| --- | --- |
| | |
| Surveys | Messages |
________
Want to keep your patients engaged and save your staff time? PDi Professionals are ready to help you plan, install and service patient technology products. Give us a call to learn more and schedule a product demo.