Amid all the changes 2020 has brought about for businesses, individuals, public places, schools and healthcare systems, increasing safety measures and implementing new protocols are at the top of the list. Everyone who walks through your doors wants to know that they'll be safe inside. New innovations in technology help make that possible.
Improve Safety and Security at Your Healthcare Facility
Healthcare facilities staff are working hard to provide care in the safest way possible, while managing operations and evolving for a COVID-19 environment. Facilities managers are needing to adjust the way they can safely deliver care to reduce the spread of the virus at their facility. By choosing technology designed for non-contact uses and built for infection control, they can increase productivity and reduce costs for new COVID-19 process improvements.
It's time to innovate with new digital solutions.
Begin with an Automatic Temperature Scan
Many healthcare facilities and non-healthcare buildings are already employing this tactic. Before anyone can enter the building, they must have their temperature taken, and it must fall within an acceptable range. According to a study from USC, in most cases, COVID-19 and diseases related to it first appear as a fever. That's why it's incredibly important to monitor temperatures at the door. Anyone who has a fever above the acceptable range can be asked not to enter, thus protecting everyone else inside.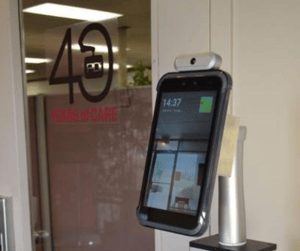 One way to do this is by appointing a staff member to check the temperature of everyone who enters. However, most thermometer technology requires close range to work, which doesn't allow for social distancing measures. Instead, employ an automatic thermal temperature scanner to alert your staff to anyone entering your building with an elevated body temperature.
Choose a device that is automatic and doesn't need to use staffing resources and time. A non-contact, fast scanning device can allow for proper social distancing. Choose one with excellent scanner accuracy and audio/visual alerts for abnormal temperatures. Facial recognition software can save staff time and records staff temperatures. Some models can also detect mask usage and provide building door access security.
Use Video to Make Things Easy
There are plenty of uncertainties that have come with COVID-19 this year. While patient safety is of utmost importance, their mental well-being is also critical. Most healthcare facilities have had to minimize or eliminate visitors during this time, and patients in hospitals and residents at senior living centers have needed new ways to engage with their loved ones.
Video calls have become the easiest way for people to visit with their loved ones when they cannot physically be together. That same technology can work in healthcare systems, too. With healthcare-grade tablet options that include integrated camera and mic systems, facilities can easily help their patients and residents connect with their loved ones during this time.
Strategically choose a product like the PDi Telehealth Video Call Cart system that also has HIPAA-compliant software so you can use it for telemedicine visits to keep healthcare workers safe and still get care to patients who need it. Using a cart system means it's portable so you can bring the technology to whatever patient needs it. Since the displays and system are bleach-cleanable, there's no worry of infection when properly cleaned in between patients.
Improve the Experience and Deliver Peace of Mind
With UL-Listed, healthcare-grade, bleach-cleanable technology, you know your patients are protected. Do you ever wonder if iPads are really safe for patients to share? Do you have teams busily trying to disinfect consumer tablets for patient use? Are you ruining the electronic consumer tablets and having to replace them often? Worried about infection control and risks?
Choose US-made, UL-Listed, healthcare-grade tablet technology by PDi. It's crucial to ensure your patient's safety by trusting the largest US manufacturer of healthcare-grade devices, proven for 40 years. Learn more about the advantages of PDi bleach-cleanable patient devices and COVID-care digital solutions.
Your digital transformation time is now!