If you design or manage a hospital or healthcare center in California, chances are you've heard of OSHPD, the Office of Statewide Health Planning and Development. Among other important duties, OSHPD ensures that healthcare facilities are architecturally sound to protect from earthquake damage.
When choosing your patient televisions and entertainment systems, it's important that you adhere to these standards. The Facilities Department Division oversees healthcare facility construction projects which also includes monitoring additional bed capacity. Because of that, project approval response times may be impacted during the COVID-19 pandemic and beyond. PDi can help with pre-approved designs.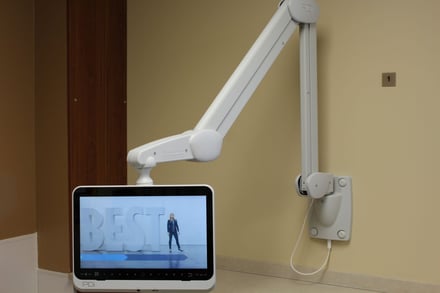 If you're handling new construction or working on a facility renovation, televisions and patient technology might be near the top of your list. If so, here are three reasons to choose PDi OSHPD approved products.
1. They're pre-approved, so you can easily drop them into your design.
Don't let a delay in communicating with OSHPD hold up your project's progress. Instead, choose from PDi's products that have already been given the green light.
2. We offer a range of products to suit most needs that are ready to go.
We have multiple device, mount and support arm options to ensure that you find the best system for your facility. Our components are designed to work together as a complete OSHPD-approved system that provides entertainment to your patients safely.
3. PDi offers engineering support when needed for unique solutions.
PDi staff speak with healthcare architects, designers, and facility managers everyday. We are the manufacturer that offers direct support. We have the team and the tools to expedite custom solutions for unique installation situations. We are ready to work with your team to choose the best OSHPD system for your patient experience.
We have multiple products that are approved to address new building requirements. We also are able to help with renovations. In some areas, buildings may require some updating but fall under a tricky grandfather clause. Under this clause, the structure itself cannot be penetrated or deconstructed in any way lest the building be required to meet current OSHPD standards. If you want to keep your status under this clause, we have solutions to help you along the way.
Some healthcare network managers are choosing to install OSHPD-approved devices and fixtures to ensure that their facility is future-proofed for new regulations. Once you know about a remodel or new building, you should begin talking about those standards and requirements. This ensures you have enough time to meet design goals as well as regulations. We are here to talk with you and help you make your decisions along the way.
California isn't the only place with seismic activity where healthcare facilities benefit from OSHPD. Check out the map below. If you design for or work in an area where earthquakes occur, choose an approved device and system by PDi. They're designed to stay strong and sturdy even through seismic activity, and keep you and your patients safe.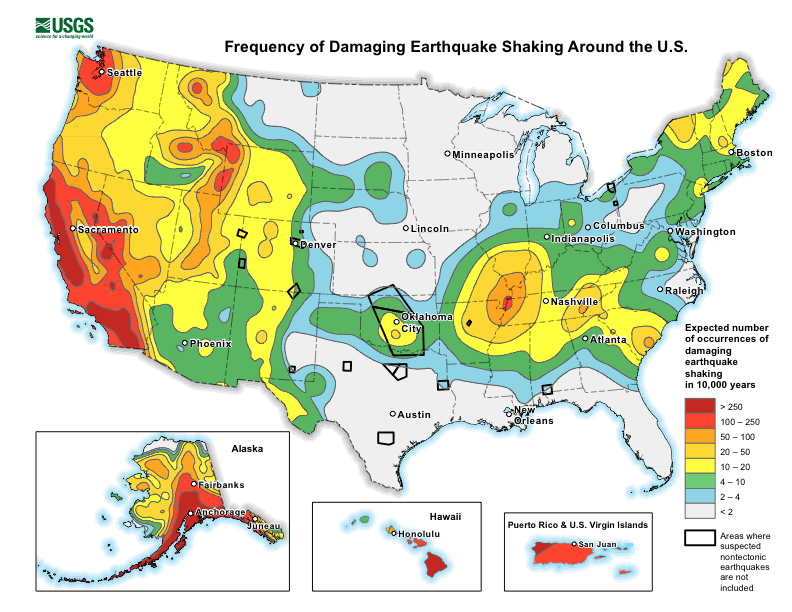 Map by The American Geosciences Institute on earthquake possibilities across the U.S.
The PDi sales and PDi ProServices team is ready to assist you with your television and patient entertainment needs. Click here to visit our website to learn more about your choices for PDi OSHPD Approved Products or call us today at +1 (800) 628-9870, and let's get started creating the patient experience you envision.