medTV 43
43" A-Series Enhanced Entertainment Hospital TV with Integrated Pro:Idiom® and RF-HEMiS™ Headend TV Server Compatible
PDI-A43A
Description
Enhanced entertainment, made simple.
Let patients switch it up by offering more entertainment without any extra connections. The PDi A-Series is more than a simple TV display; it has games and relaxation apps built in. Patients can easily navigate the icon-based menu of entertainment using a numeric or navigational pillow speaker.
Designed For Viewing Brilliance.
This PDi 43 inch A-Series HDTV is equipped with Pro:Idiom so patients can access more channels,

with FHD 1920 x 1080 display resolution for

stunning HD clarity.
Designed to Meet Healthcare Needs
Create a comfortable patient atmosphere with universal pillow speaker recognition, volume limiters, multi-bed codes, closed captioning and more.
PDi televisions
are manufactured
with hospital-grade features and easily controlled via the headend RF-HEMiS TV server.
These UL-Listed healthcare-grade TVs have lasting value and provide added safety in your facility
.
UL-Listed for healthcare use in USA and Canada
Specifications & Features
Specifications
Model Number: PDI-A43A
Dimensions (W x H x D): 38.6" x 22.4" x 2.2" (98 x 57 x 5.7cm)
Diagonal screen size: 43" (109cm)
Weight: 26 lbs (11.8 kg)
Backlight: LED
Display
1920 x 1080 Native Display Resolution
LED Backlight
Lamp life up to 30,000 Hours
TV Features
Pro:Idiom Ⓡ / MPEG4
FM Tuner 88.1-107.9 MHz
RF-HEMiS TV Server or USB Clone Programmable TV settings
16:9, 4:3, Panoramic 16:9 Aspect Ratio
TV Source Guide Menu
Metal/Black Gloss Brushed Cabinet
SMART Features
Android OS 7.0 (Nougat)
Embedded native apks for games and relaxation

Audio & Video
Speakers: 2 x 5W RMS
Compatible with programming remote PD108-420 and patient TV remote PD108-421.
Mount
VESA mount 200mm x 200mm, 6mm thread
Use Flat Mount PD168-033
Use Articulating Mount PD168-107
Use Table Stand PD168-108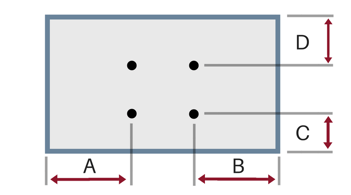 A: 15.35 inches | 390 Millimeters
B: 15.35 inches | 390 Millimeters
C: 6.7 inches | 154.3 Millimeters
D: 8.5 inches | 214 Millimeters
Features
Built for healthcare standards
Easy navigation to games and relaxation (included)
UL Listed for healthcare use in USA and Canada
Universal Pillow Speaker
RF-HEMiS Head-end TV Management or
USB Clone Programmable
2 HDMI Inputs
MPEG4/Pro:Idiom decoding for expanded lineup of HD channels
Multi-lingual English/French/Spanish Menu and OSD
3-year warranty included or upgrade to
5-year Extended Warranty
Works with Epic MyChart Bedside TV