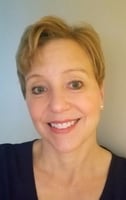 As part of our 40th Anniversary celebration, we're publishing a special series of blogs throughout 2020. Each month you'll see insights from a different member of the PDi team. Our goal is to bring you more fully into the PDi family. Our sixth blog in this series comes to you from Helen Dahlgren, Director of PDi ProServices.
The COVID-19 pandemic has put many things on hold and changed countless plans. Throughout this time, PDi has continued to do hospital TV installations. Our customers and their patients are and always have been our top priority. Our service and installation team has adapted to continue supporting our customers during these uncertain times.
When COVID-19 first appeared, little was known about it or how it was transmitted. We didn't have enough information from China's outbreak, and it just appeared to be spreading uncontrollably at first. So, we chose to proceed with caution.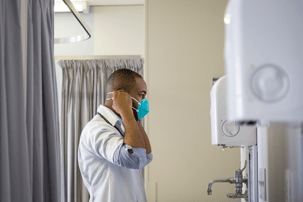 Pause and Evaluate
When the pandemic first began, we put all field work on hold. We waited until it was clear that the facilities would be taking precautions to protect all patients, healthcare workers and that they were able to handle the incoming patient load with PPE and breathing equipment shortages.
Once the lockdown began to slow the spread, some locations were designated specifically as COVID-19 recovery facilities. In those cases, those patients would be separated from the rest of the population if at all possible.
We waited for the "all clear" from the facilities. It wasn't about waiting for the disease to pass, as it's still out there and not likely to disappear anytime soon. once the facilities and healthcare workers began to feel more in control, they allowed us to come back in and feel safe.
A Good Time for Upgrades
For some customers like small surgery centers or outpatient clinics, this has been a good time to upgrade, remodel or expand. Since no one has been in the building, it makes planning for and doing construction work easier. Likewise, construction projects that were already in the works to increase bed availability were fast-tracked early in the pandemic to make room for more patients.
Ensuring Contractor Safety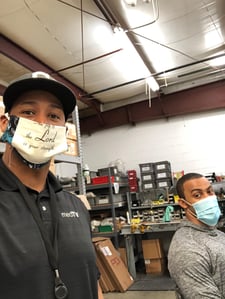 Any contractor that works in the healthcare space knows that there is always an expectation that he or she will do whatever is asked to protect patients from pathogens, but also to protect themselves and the healthcare workers. Most facilities require techs to have flu shots, TB tests, and more recently Hep A vaccines.
At the same time, even in "normal" times there may be a reason to enter a room with a patient who is isolated. In cases like this if a tech enters a room, they suit up with the same PPE a nurse or doctor would use. This made installations difficult when facilities didn't have enough PPE for the healthcare workers themselves. A number of locations likely cancelled projects with outside vendors because they couldn't provide the necessary safety equipment.
We are still using full PPE in areas where patients with infectious diseases are housed. There are just more of those patients, and areas. We also have the right of refusal to enter a patient room if we don't feel safe. Face masks, gloves and disinfectant wipes have been part of our process because we work specifically in healthcare spaces, and we continue to use the tools at our disposal to keep everyone safe.
Installing Your Patient Televisions
Rest assured, the PDi ProServices team has the proper training to ensure a safe installation. A big part of the installation process is managing expectations and communicating with the parties onsite that will be affected by your work. It's often surprising to see how much healthcare workers, patients, and families rely on the work we do and the products we make to help relieve stress and bring something familiar to them while in the hospital. A favorite TV show or a game can go a long way to helping a patient forget pain for a little while. Entertainment like this can also help families pass the time and stay connected while waiting for tests or doctors.
Installations generally take about an hour per installation, but that varies greatly by what is included in the scope of work. Much of the work is done outside of the patient room, like running cable and setting up the headend/signal. Some bedside locations are more complicated and take significantly more time to be done right. Ceiling mounts can fall into this category, but since they don't take up any space on the headwall they're gaining in popularity.
To reduce time onsite and in patient rooms, we always recommend that you do a site survey to look at all potential concerns and have them mitigated before the installation begins. Our team can help you plan and execute your site survey - just give us a call today at +1 (800) 628-9870. We're more than happy to help you with anything you need.