While no one ever wants to be in a hospital, it can be especially hard for children to spend hours or days in a hospital bed. To improve the patient experience, teams at children's hospitals are always looking for ways to add more safe options for fun and play. People within hospitals and companies work together intentionally to create solutions that revolve around fun for young patients.
Bringing fun to a hospital isn't always easy, though, and it takes a group effort from the Child Life staff within the hospital, Children's Foundations or donors, care providers and other organizations to find the best ways to provide and maintain entertainment options to satisfy all. There are plenty of factors that contribute to the challenge of bringing fun to patients. Here are three primary things to consider when choosing gaming consoles for use in hospitals:
1. Infection Control
During this era of COVID especially, the most important aspect of all healthcare design is infection control. Keeping patients safe is a primary goal at all healthcare facilities, and that includes even more than personal protective equipment (PPE).
Choosing entertainment options that reduce the burden and risks of cleaning iPads or other consumer electronics, and that can be quickly, easily and completely cleaned and disinfected in between patient use is essential. PDi only designs and builds UL-Listed, healthcare-grade TVs, like medTV Smart sets used with the GO-GO cart, that are easily disinfected. Another benefit is having pre-loaded games: less items for patients to touch and staff to need to clean.
2. Flexibility for Immobilization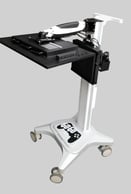 Some patients have to remain immobile, especially when recovering from particular surgeries. For some this means laying flat on their back, which can make entertainment difficult. This just leaves room for companies and organizations like PDi to get innovative. One solution PDi delivered is a way for a TV to be adjusted and positioned so patients who are laying flat can still see the screen. From there they can watch a show or a movie or even play a video game.
3. Ease of Use
No matter what entertainment option you want to provide, it needs to be easy for patients to access and use. For many hospitals it's not feasible to have video gaming consoles or other systems in every room. And, some kids may have no desire to play video games, so investing in enough consoles to fill the hospital is likely a needless expense. One option is to have a designated "game area," but some patients are unable to easily leave their rooms. During COVID-19, this is especially true.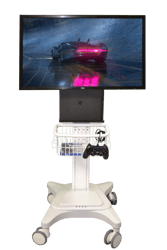 Instead, mobile products like the Games-On-the-GO Gamer Cart let facilities provide games to the patients who really want to use them. The GO-GO™ Gamer Cart is compact and has pre-loaded therapeutic games that are designed for meaningful, intentional use, as well as some that are good for entertainment. This makes it easy for staff to bring the console to patients, even in small areas like infusion, and there's no risk of losing or damaging game cartridges or discs. The GO-GO™ Gamer Cart is also designed for infection control and can easily be cleaned in between patients.
Of course, video games and television are only two ways hospitals can provide fun to their patients. In the pre-COVID world, having a fun and games center worked well, with puppet shows, story time and other group activities. Other hospitals may have chosen to offer new release movies in a theater-style room. In the right setting, therapy dogs are also a great hit with children who might be missing their own furry friends.
Many children's hospitals have found value in having a child life specialist who can focus on creating the best experience possible for young patients. Child's Play Charity is an excellent resource for any children's healthcare facility looking to add video gaming to their offerings or expand their gaming program expertise.

Patient entertainment and fun is important for everyone, especially for young patients in children's hospitals. Providing them familiar means of entertainment can make them feel more comfortable, and any play time can help them feel like a carefree kid again. Unleash your patient's inner gamer!