Protecting your patients, your staff and anyone who enters your hospital or healthcare facility has become a critical concern in 2020. While it's always been important, that safety has never been put in jeopardy on a large scale until the coronavirus outbreak this year.
One of the most common symptoms of COVID-19 is a fever, and many healthcare facilities have adopted temperature checks to help stop the potential spread of the virus. Before people are allowed to enter the building, they have their temperature scanned and checked.
Many hospitals are having to find staff to manually use a thermometer to check every person who enters. Between checking temperatures, asking about the ever-growing list of COVID-19 symptoms and keeping people socially distant, that job can become overwhelming and a drain on resources. It is also likely not financially sustainable.
Save Time with the Body Temperature Scanner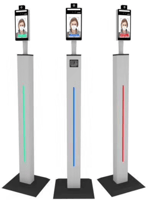 This automatic Body Temperature Scanner can make this a little easier and cost-effective. Visitors simply step up to the device and the infrared sensor automatically measures their temperature using a thermal scan. The built-in LED light rail quickly indicates the measured temperature. An acceptable, normal temperature triggers a green light, whereas a red light and alarm buzzer will indicate if the temperature is outside the limit.
Watch this short video to see how easy it works!
While the CDC mandates 6-ft physical separation, we all realize that people naturally tend to move closer to one another, without thinking about it, especially when waiting in line. Waiting in line with others to enter the hospital or another healthcare facility can also feel stressful. Even though people may know how important it is to stay six feet apart, they may unintentionally move closer to try to make the line move quicker. Often people can move through a temperature kiosk more quickly than they can have their temperature taken by a staff member. Because they're moving more quickly, they're more likely to stay socially distanced.
With an automatic thermometer kiosk like this, your staff can focus their time and energy on asking about additional symptoms. In many cases having a temperature check isn't sufficient - visitors must social distance, wear masks, and confirm that they have not experienced symptoms recently. If your facility requires this, staff can still ask questions while wearing masks, social distancing, and without needing to worry about juggling a thermometer as well.
Protect Your Staff
This temperature kiosk can also be used for staff, and the technology allows for facial recognition software, too. Upload a photo database of your staff, and then as they come through the kiosk, their time stamp and temperature will be saved. By automating this process you can save time so they don't have to check and record once they get to their office or station. Easily access the data whenever you need to see everyone's most recent temperature.
A fever is just one of many symptoms of COVID-19. Save time and keep your patients, staff and facility safe. Easily monitor temperatures as people enter your healthcare facility and stay healthy with this non-contact device.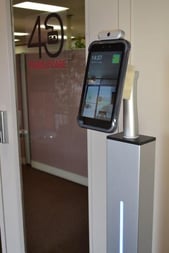 An Investment for The Future
While this building-access security technology became popular because of COVID-19, it will be useful to keep around even after the pandemic is over. As we all became more comfortable with using metal detectors, many expect this technology will gain acceptance too, as we all desire to increase safety and security.
A temperature scanner is a great investment and a sustainable way to easily protect your patients, staff and visitors. By consistently checking temperatures, you can ensure patients, visitors and staff can enter your facility in a safe and efficient manner during busy shift changes or slow afternoons.
Learn more about it: https://www.pdiarm.com/thermal-camera-kiosk